BMW has designed their 2016 lineup to include a vehicle for every buyer. That means there are small sporty cars and midsize cars as well as SUVs for you to choose from. In fact, the 2016 lineup offers two SUVs that are different sizes that you may be considering. But which model is best for you and your needs? On this page, we'll compare BMW's small and standard SUVs in a head-to-head competition.
Keep reading to get the scoop on the 2016 BMW X3 vs. X5, then schedule a test drive at your local BMW dealer near Manhattan, Bronx, and Queens.
Performance Comparison: Vroom or Vrooooom?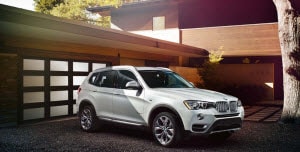 The first difference we'll analyze is between the base power offered by these two vehicles. The two vehicles are in two different classes because they're designed for two different customers. So the question is, which customer are you?
The 2016 BMW X3 is equipped with a powerful intercooled turbo premium 2.0-liter I-4 engine that produces up to 240 horsepower and 260 lb-ft of torque. This engine gets up to an EPA-estimated 21 mpg in the city and 28 mpg on the highway for a combined 24 mpg. This is a perfect option for families of up to 5 wanting a luxury vehicle but still wanting to conserve over the long run.
The 2016 BMW X5 is equipped with an even more powerful intercooled turbo premium 3.0-liter I-6 engine that produces up to 300 horsepower and 300 lb-ft of torque. This engine gets up to an EPA-estimated 18 mpg in the city and 25 mpg on the highway for a combined 21 mpg. This is the perfect option for those drivers who want luxury, power, and don't really care about efficiency.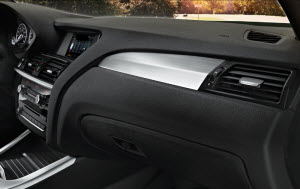 Either option is a great option because both come with rear-wheel drive as a standard with multi-link rear suspension. The difference comes in at the front suspension, which is necessary for the additional power. The X3 has strut front suspension and the X5 has double wishbone suspension in the front.
Size Matters: X3 vs. X5
Both of these SUV options offer seating for up to 5 passengers, so the difference between the size of the two vehicles (the biggest difference) really depends on your personal preferences. To start, we'll compare the interior dimensions so you can get a clear picture of how the two vehicles compare.
   
Shoulder room: The X5 offers 4.2 inches of additional space in the front seat and 4 inches of additional space in the rear.
          
Legroom: The X5 offers an additional 0.1 inches for second row passengers and 0.5 inches for front row passengers.
          
Headroom: The X3 offers an additional 0.2 inches in front seat and 0.3 inches in the rear seat.
So there are some pros and cons here that really do depend on your needs. If you've got young kiddos, you can probably get away with the X3 in terms of spacing alone. But those with adult children or passengers, you'll likely want to invest in the larger model.
Still Not Sure? Check Them Both Out!
Both the 2016 BMW X3 and the BMW X5 are at your local BMW dealer near Manhattan, Queens, and Bronx, and the team at BMW of Manhattan will be happy to help you choose the model that best fits your wants, needs, and budget. Visit our online inventory now to see what we have in stock!