The 2017 BMW 5 Series is a joy, not simply because of its stunning design and standard technology features, but also because it's easily tailored to your specific needs. The vehicle, like any BMW in the 2017 lineup, offers incredible driving dynamics, a luxurious interior, and plenty of technology features to choose from.
Keep reading to learn more about this incredible vehicle in the 2017 BMW 5 Series review from your local BMW dealer near Manhattan, Queens, and Bronx.
Driving Dynamics Improvements Due to the Redesign
Many parts of the BMW 5 Series have evolved over the years, and while all of the new vehicle's specifications have been released, we can already see some major differences in the 2017 model. 

The new BMW 5 Series has the CLAR platform that's featured in the 2017 BMW 7 Series, which means it's going to be lighter than ever before. With high-strength steel, carbon fiber, and aluminum on the body panels and chassis, the overall weight is decreased and handling improved. 
The BMW 5 Series also will feature double-wishbone front suspension and the five-arm rear axle, both of which have been redesigned for the 5 Series.
BMW 5 Series Trim Levels
An important part of choosing a model from the 5 Series is selecting the right trim level for you. Like many vehicle lines, the 5 Series offers several trims that you can choose. This four-door luxury sedan provides five different trim levels, which include the BMW 530i, the 530e hybrid, the BMW 540i and the 550i. In addition to providing varying features, each 5 Series trim level is available with all-wheel drive. A 5 Series trim with all-wheel-drive is indicated with the 'xDrive' signature.
Choosing the right trim level means getting the right level of enjoyment and utility when you're driving around New York.
BMW 5 Series Interior Options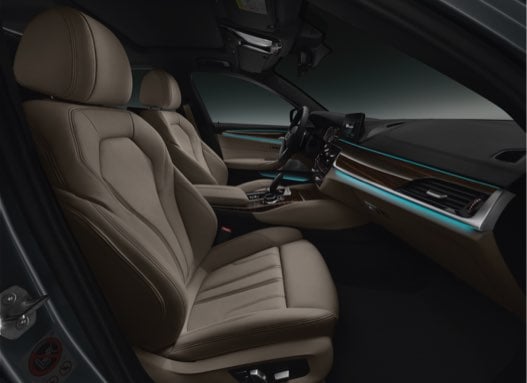 Perhaps the most important part of picking a luxury vehicle from the 5 Series is getting the comfortable and useful interior that you deserve. The interior of this year's 5 Series has been redesigned to offer a better driving experience in every area. Optional in the 5 Series are multi-contour seats that come equipped with touch sensitive adjustment controls.
In addition, backseat legroom has been improved by almost an inch, ensuring that your passengers are always comfortable when riding in your 5 Series model. There is also expanded cargo space totaling 18.7 cubic feet so that you can take all your most important items with you. Other standard features that you'll have access to with the 5 Series include a tilt-and-telescoping steering wheel, vinyl upholstery and dual-zone automatic climate control.
Optional features include ventilated and massaging seats, a sport leather steering wheel and a rear-wheel steering system.
Engine Options Abound in the All-New 5 Series
New to the 2017 BMW 5 Series lineup is a brand new engine, a 2.0-liter 4-cylinder TwinPower Turbo engine that will produce up to 248 horsepower and features a 530i version. The 520i is set be offered with a 184-horsepower engine, and the 525i will feature a 231-horsepower engine. 
The BMW 5 Series also features a 6-cylinder engine option with a range of power production options. The BMW 540i gets up to 335 horsepower, and the BMW M550i xDrive gets up to 456 horsepower. The 2017 BMW 5 Series also features a range of diesel engines with a base output of just 150 horsepower but a maximum of up to 400 horsepower.
New Features for the Newly Redesigned 5 Series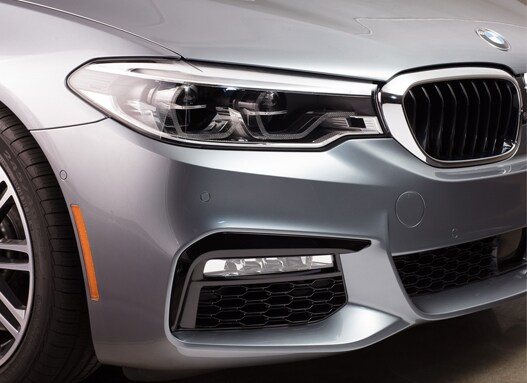 For a luxury vehicle line to be worth your consideration, it must provide advanced technology features that make for a unique automotive experience. Fortunately, the BMW 5 Series is packed with standard technology features that you won't be able to resist using.
If you're a music lover, you're really going to enjoy the 205-watt sound system that provides twelve speakers and a CD player. There are also options for connecting your personal music devices such as a USB port and an auxiliary audio jack. The best piece of technology you'll have access to with the 5 Series is the iDrive infotainment system, which features a 10.2-inch touchscreen that can be controlled with your voice, from your steering wheel and even gestures.
There are also several optional technology features that you can choose to increase the utility of the 5 Series. These features include either a Harman Kardon or Bowers & Wilkins audio system, and rear seat entertainment options like a DVD player or 10.2-inch viewing screens.
The vehicle will also have a new range of advanced safety technology features as well as driver assistance systems, including a redesigned Automatic Cruise Control system with a stop-and-go function that will likely be a major upgrade from the previous system.
BMW 5 Series Safety Features
Maybe the main reason luxury consumers in New York should choose a vehicle from the 5 Series is its inclusion of exciting safety technology. Both the standard and optional features you'll find in the BMW 5 Series will give you a comprehensive level of safety when driving around the city.
Standard safety features provided by the BMW 5 Series include traction and stability control, multiple airbags, a rearview camera, parking sensors and antilock brakes. You can also add optional active safety systems that include forward collision mitigation braking, lane departure warning, semi-automated steering and blind-spot monitoring.
BMW 5 Series Exterior Styling
If you're interested in driving around New York in a stylish BMW, you'll love the exterior styling that you'll have access to with a 5 Series model. As you would expect from BMW vehicles, the 5 Series is characterized by a sleek luxury exterior unmatched by any other vehicle.
Depending on the 5 Series trim that you choose, you'll have access to a variety of exterior style options that are guaranteed to impress wherever you take your vehicle. These amazing features can include LED accent lights and fog lights, heated exterior mirrors and an attractive sunroof. If you're looking for a vehicle that provides high-end styling and features, there is no better option than choosing a model from the 5 Series.
Test Drive the BMW 5 Series in Manhattan NY
If you're ready to select an amazing vehicle from the BMW 5 Series, you need to be sure to visit BMW of Manhattan today. We are proud to serve our customers throughout New York, including Manhattan, Queens and Bronx, and would be happy to help you choose a premier BMW vehicle.
Stop by BMW of Manhattan so that you can speak with one of our dealership professionals and drive off of our lot in a 5 Series model.