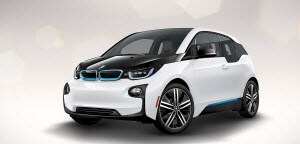 The automobile has been completely overhauled by BMW and an all-new version of an automotive vehicle has been created. Incredible performance, stunning efficiency, and beautiful design throughout is what you find in the 2017 BMW i model, which offers an all-electric and a plug-in hybrid model for you to choose from. Get a closer look at this show-stopping vehicle in the 2017 BMW i review from the team at BMW of Manhattan. 
Exceptional Power with Futuristic Technology 
If you've been dreaming of a time when you can get racecar speed in an electric-powered model, the time has finally come. The 2017 BMW i offers up to 420 lb-ft of toque, and an acceleration from 0 to 60 MPH in just 4.2 seconds in the fully electric BMW i3 model. The vehicle's incredible power is thanks to the eDrive technology exclusively in BMW vehicles.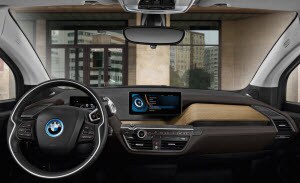 The exceptionally high power and nimble handling is thanks to the vehicle's Carbon Fiber Reinforced Plastic construction, which is the foundation of the 2017 BMW i3 and the 2017 BMW i8. The material is half the weight of traditional steel and it's just as strong, which means you get increased fuel economy, handling, and highway pickup for your rides around Manhattan, Bronx, and Queens. 
Sustainability Innovation at the Heart of the BMW i Series
When BMW decided to build one of the most efficient and sustainable vehicles on the market today, they also built one of the cleanest manufacturing facilities. Based in Leipzig, Germany, the BMW automotive plant is BMW's most sustainable. The facility uses less energy and less water, all while using only sustainable energy sources. 
For those who feel American manufacturing is important, the vehicle's carbon fiber threads are made right here in the United States. The carbon fiber plant in Moses Lake, Washington, is 100% hydropower generated, which means the 2017 BMW i Series is one of the most sustainable vehicles on the market today and it helps the American economy with American-made steel.
Two Incredible Options to Choose from in BMW i Series 
The 2017 BMW i Series has two very different model options to choose from. The BMW i3 is a coupe. It's stylish, spunky, and features European design like the MINI lineup. The vehicle offers seating for up to four passengers, start-stop button, 3-stage heated front seats, and the BMW Navigation Business with iDrive Controller with a 6.5-inch high-resolution screen. 
The 2017 BMW i8 is a plug-in hybrid sports car that redefines the class. The vehicle offers seating for up to four passengers, 3-stage heated front seats, start-stop button, and the BMW Navigation Professional system with an 8.8-inch high-resolution screen. The vehicle also offers Active Driving Assistant with Surround View that includes Pedestrian Protection, Frontal Collision Warning, and Speed Limit Information. 
Schedule a Test Drive Today 
If you're ready to redefine luxury and sustainability with a 2017 BMW i model, check out the inventory at your local BMW dealer. BMW of Manhattan offers a central location near Queens and Bronx and a full team of BMW specialists on staff to assist in your car buying journey. Schedule a test drive online today and we'll be waiting when you get here.