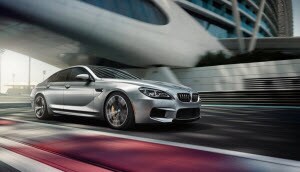 The 2017 BMW M Series was designed to take your driving performance to the next level for the average driver. Standing for "Motorsport," the M moniker is synonymous with performance, technology, and style beyond what's typically offered in street-legal vehicles. Crafted and tested in Germany for performance excellence, driving a BMW M Series vehicle is an experience you'll never forget. 
Learn more about these incredible vehicles in this 2017 BMW M Series review from your local BMW dealer near Manhattan, Bronx, and Queens. Then, schedule a test drive at BMW of Manhattan to experience the series for yourself.
BMW M Series Offers 10 Models 
The 2017 BMW M Series is offered in 10 different models so you can choose the body style that best fits your needs. Offered in a Coupe, Convertible, Sedan, and an SUV, the M Series can meet all your needs. 
Coupe:
The M2 is small, nimble, and super fun to drive. Its 2-door body style makes it an excellent option for those looking for something easy to maneuver. The M4 comes in both a Coupe and a Convertible, and is a sportier option for those wanting to grab people's attention. 
Sedan:

The M3 is a 4-door model that's the most popular of the M Series. Offering plenty of room for a small family and luxury beyond what many expect, the vehicle is a real head turner. The M5 offers serious power with up to 560 horsepower, which is the most powerful ever to be placed within the M5 model. The M6 is a track-worthy model that's sporty, spacious, and versatile with Coupe, Convertible, and Gran Coupe options.
SUV:
The X5 M and the X6 M have quite a bit to offer to those looking for more room to spread out. The X5 M offers incredible performance with the more typical SUV styling, while the X6 M looks like a large Coupe with bold sporty styling.
Sport Performance Unlike Any Other 
What makes the M Series as popular as it is for residents in the Bronx, Manhattan, and Queens areas is that it's incredibly powerful. Each vehicle is specifically engineered for sport, track-level performance. The exterior is designed with incredibly light materials like carbon fiber that reduce the weight and make for optimal maneuverability. The track-level high performance engine has TwinPower Turbo technology that delivers stunning performance unlike any other vehicle on the road.
Choose an M Series Model for Your Lifestyle 
Whether you're looking for something small to play around in on the weekends near Manhattan, Bronx, and Queens, or you're looking for a sport-performance vehicle that can get you and your family comfortably through the morning commute, there's a 2017 BMW M Series model for you. Take a closer look at the entire lineup of BMW of Manhattan's online inventory, then choose the vehicle that best fits your needs. 
When you're ready, schedule a test drive online and experience the incredible performance, technology, and style of the 2017 BMW M Series.