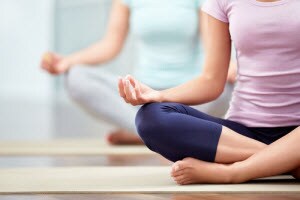 Finding the time and energy to make time for yourself during the holidays can be just one more added stress to your daily routine. But with an hour set aside in your favorite yoga studio, you can feel refreshed, relaxed, rejuvenated, and ready to take on the day. 
To help you keep your sanity (and your health) this season, the team from BMW of Manhattan has compiled this list of the Best Yoga Studios Near Manhattan, NY. Check out the list now, then book a class and start feeling immediate change.
Bikram Yoga NYC
If you're an athletic person looking for a challenging and effective yoga practice, then Bikram Yoga NYC might be an excellent option for you. This local studio was the first Bikram Yoga studio in New York City when it was established in 1999 and today offers nearly 300 classes per week in the 4 locations throughout the city. Learn more about Bikram Yoga, a heated 28-posture class, and the Bikram Yoga NYC studio on their official website.
Earth Yoga NYC
If hot yoga is totally your thing, then Earth Yoga NYC is one of the best places to go near Manhattan. With a calming, friendly, and nurturing environment, this local yoga studio will help you feel grounded, rested, and full of positivity when you leave each and every class. This studio offers classes for yogis of all levels. To learn more or to speak with a yoga advisor, contact the team at Earth Yoga NYC today.
Modo Yoga NYC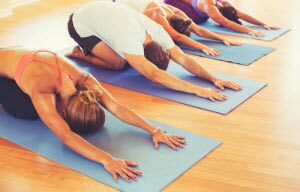 If community outreach, environmental consciousness, and hot yoga are all in your lists of interests, then Modo Yoga NYC is probably going to be your new home base for yoga. The studio's vibe is all love, community, and intention, which is the perfect state of mind to start, enjoy, and finish your yoga practice whether you're a beginner or a lifetime yogi. Learn more about their hot yoga classes and sustainability practices on the Modo Yoga NYC website.
Sonic Yoga
Yoga at Sonic Yoga fits into all parts of your life easily and cohesively, whether that's on a vacation, in a class, at work, or in private. The studio offers regular classes for all levels of yogis, retreats, as well as yoga teacher training classes. And because of its unique location, you can expect an array of fast-paced and fun classes that even high energy yogis will enjoy. Learn more about their offerings on the Sonic Yoga website.
Yoga Herald Square
Healing, creativity, and curiosity are at the center of your yoga practice at Yoga Herald Square. With a strong focus on community, you'll find a deep connection between student and teacher, as well as classes for people of all ages, ability, and skill levels at this yoga studio near Manhattan. To learn more about all of the amazing classes they offer, including Bikram yoga, at Yoga Herald Square, check out their website and book a class today.