If you're like many New Yorkers, there are a few staples to your monthly menu that are always in rotation. Burgers are a Manhattan tradition and finding a middle-of-the-road burger isn't too hard to find. But when you want a really great burger, you've got to know where to go.
So here you have it: our list of the Best Burger spots near Manhattan, NY. Check it out now, and be sure to let them know that BMW of Manhattan sent you.
5Napkin Burger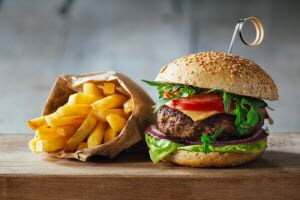 Named as one of the most popular New York City restaurants in 2015 by Zagat, 5Napkin Burger is a favorite for Manhattan locals. The restaurant has roots in fine dining and takes burgers just as seriously as it would a filet. Their menu includes meat-lover and veggie-lover options so this is a perfect joint to take friends with all of those seemingly pesky dietary restrictions. 
Burger to Order: The Inside Out burger is an excellent option for those who are focused on their fitness and don't want the extra calories of bread. 10 oz. fresh ground chuck and B&B pickles are topped with tomato, 5N sauce and wrapped in lettuce. Yum!
Burger & Barrel
Commonly called "B&B," this local restaurant is definitely at the top of our list of places to get a bangin' burger. The restaurant is located in Soho and has a wine team that makes sure you've always got the perfect pairing. Their burger is an award-winning one and was named five times as one of the city's best at the NY Food & Wine Festivals Event. 
Burger to Order: The BMC Burger is a 30 day dry-aged beef blend (hormone free) with a tomato aioli, griddled onions, and raclette cheese. It's served up with French fries and you can get a gluten free bun if you're intolerant. 
The Spotted Pig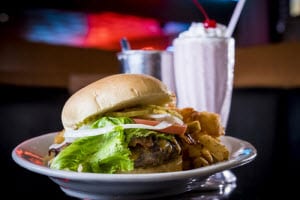 Offering up the freshest seasonal ingredients in delightful and palate-pleasing Italian and British dishes, The Spotted Pig is a favorite for locavores, since they use local ingredients as often as possible. As a Best Restauranteur of the 2016 James Beard Award, owner Ken Friedman really knows how to cook up a sensational burger. Their menu is a mix of upscale and comfort food that definitely does the trick. 
Burger to Order: We're going to go ahead and suggest you try the Chargrilled Burger with Roquefort Cheese and Shoestring Fries because it's just the best thing on the menu, in our humble opinion.
Umami Burger
Burgers with serious flavor are what you'll get from the food scientists at Umami Burger. "Umami" is a fifth flavor taste that fits in with sweet, salty, bitter, and sour, and it's absolutely delicious. Better known in Japanese restaurants, Umami is found in your favorite toppings like parmesan cheese and caramelized onions. Know where else it is? On your burger from Umami Burger. This delightful restaurant is a nation-wide phenomenon because it's doing something seriously unique and you can try it now in Manhattan. 
Burger to Order: Falafel or burger? How about both! Get the Falafel burger at Umami Burger and enjoy a falafel patty, beet infused couscous, romaine lettuce, tzatziki, tomato, avocado, and picked red onion.