Best Italian Restaurants NYC
Are you in the mood for Italian? There are some incredible restaurants in the Manhattan area, thanks to the huge Italian population and their incredible hospitality. We put together a list of what we think are the best Italian restaurants near Manhattan, NY, but you'll just have to try them out yourself to see if we're right. Ready, set, mangi! 
Ceci Italian Restaurant & Bar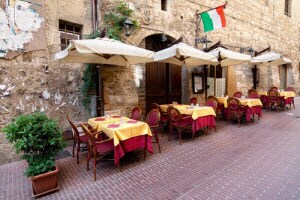 Located in Times Square, Ceci Italian Restaurant & Bar offers authentic Italian flavor with a touch of rustic flair. The friendly and hospitable staff and atmosphere can turn a casual lunch into an hour of relaxation and recharging with friends. In addition to their incredibly delicious food, the restaurant offers an extensive wine list, a full bar, and some of the best cocktails in the city. And they make homemade pizza on site, which is some of the best in Manhattan. 
Trattoria Trecolori
Modern, romantic, and eclectic are three words we'd use to describe this Italian restaurant. The family-owned Italian restaurant is located in the theatre district and it's one of our absolute favorites. Trattoria Trecolori serves traditional Italian dishes with the flair and hospitality you'd expect from your Nona's kitchen on a holiday. If you want a meal that's filling, soothing, and cooked to perfection every time, this is the place to grab a bite to eat. 
Patsy's Italian Restaurant of New York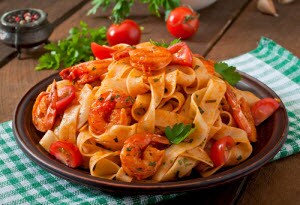 This local Italian restaurant has been delighting hungry New Yorkers since they first opened in 1944. Patsy's Italian Restaurant of New York is family-owned and -operated and is located on the West Side. Their incredible food is served with flair, with sizeable portions that are nearly always large enough for leftovers. And their abundance of menu options makes it easy for you to choose Patsy's, whether you're grabbing a bite before a show, for a quick lunch, or for a romantic dinner. 
Locanda Verde 
Located in the Tribeca neighborhood, Locanda Verde is an Italian taverna that offers an urban Italian menu with refined style. Since they opened in 2009, they've been a neighborhood favorite, thanks to their warm and inviting atmosphere and their delicious food. Our favorite way to dine there is family-style in their private dining room. It seats up to 60 guests, which makes it the perfect place for your next big event, whether that's a birthday, anniversary, or work party.