There's probably nothing in the world more comforting than a bite of homemade pie. But unless you're a superior baker, you might find yourself relying on local bakeries to provide the goods. And that can lead to serious debates of pie-to-filling ratio that could leave your holiday table divided. Don't let this happen to you. 
Check out our list of the best pies in Manhattan, NY, and place an order for your holiday pie today.
The Blue Stove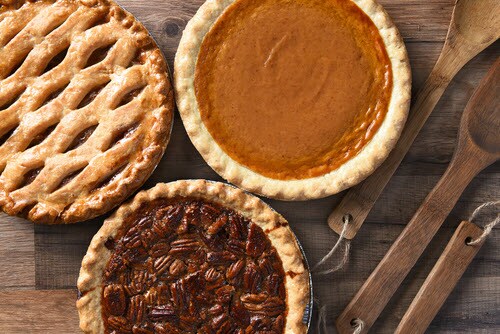 Homemade pie dough rolled out and decorated by hand every day is what you're ordering when you get a pie from The Blue Stove. The small-batch bakery specializes uses seasonal, fresh ingredients in their delicious pies with no artificial fillings. 
Made from scratch with so much love, the delicious baked confections made near Manhattan will be the talk of your holiday party this year. Be sure to order your pies ASAP so you get everything you want this season. 
Pie to Die For
You have to try the Apple Cardamom Crunch. With its cardamom spiced butter crumb crust and Crispin apples inside, it's definitely a seasonal treat.
Glaser's Bake Shop
In 1902, Glaser's Bake Shop opened their doors in America after owners Justine and John emigrated from Germany. Today their fortuitous business is run by their sons Herbert and John, who continue the traditional baking methods and incredible service. The bakery specializes in cakes, but their pies shouldn't be missed this holiday season. The Manhattan bakery also offers turnovers, muffins, breads, cookies, and all manner of baked goods for you to enjoy. 
Pies to Die For
If you had to choose just one, go for the Coconut Pie. It's a sweet finish to dessert that will keep everyone satisfied. But if you want to grab two, snag a Cranberry Orange Apple!
Petee's Pie Company
New York Magazine calls the baked treats at Petee's Pie Company "the absolute best pie in New York," and we have to agree that they're totally in the top. The bakery specializes in making pies with the freshest ingredients, sourced from New York state as much as possible. The 9-inch crusts are made with organic flour from NY state and grass-fed butter. They also offer vegan and gluten-free options. 
Pie to Die For
If you're one for tradition, the Pecan Pie is a must because it's perfection in a pie dish. But the Autumn Pear is pulling in a close second because it's just so finger-licking good.
Pies-N-Thighs
The Thanksgiving Pie Shop over at Pies-N-Thighs is officially open, which means it's time to put in your holiday order. Down to one location in Brooklyn, this local bakery and restaurant serves up some seriously delicious grub. But don't take our word for it. Just consider the 10 years of faithful customers who've visited their Brooklyn location and even voted them for the Best Apple Pie in Food & Wine and Bon Appetit's national surveys. 
Pie to Die For
This holiday season, order the Apple Pie (it's an award-winning pie!) and the Pumpkin Pie. That way you can get your seasonal necessities out on one delicious plate.