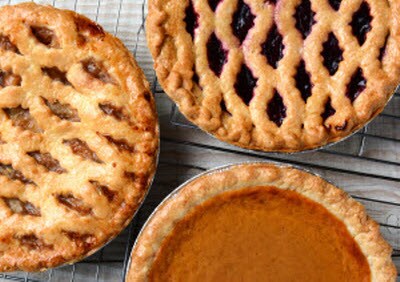 Every March 14, math lovers unite to celebrate the one constant thing in their life: the ratio of the circumference of a circle to its diameter.
And for a tasty way to celebrate this unique holiday, you'll want to grab yourself a slice of delicious pie. If you're not sure where in New York to visit, we'll help you out with this list of the best pies in the city for Pi Day...
No Four & Twenty Blackbirds Baked in These Pies
Four & Twenty Blackbirds was founded in 2009 by sisters Melissa and Emily Elsen. Born and raised in the rural farm town of Hecla, SD, they learned to appreciate the art of pie-making from their grandma Liz. By taking her traditions, and mixing them with their passion for seasonal ingredients and creativity with flavor combinations, they were able to open a successful pie shop.
You'll find lots of unique pie flavors here, including Bittersweet Chocolate Pecan, Brown Butter Apple Streusel, and Matcha Custard. But keep in mind that their menu changes with the seasons, so check back often to see what pies are currently for sale.
Check out their delicious-looking pies on the Four & Twenty Blackbirds Facebook page.
The Little Pie Company in the Big Apple
Little Pie Company is known as NYC's best kept secret. It started in 1985 out of an apartment with the idea of making apple pies in the city that calls itself the Big Apple. They took their baking cues from their mothers and grandmothers, using no preservatives and only the freshest ingredients.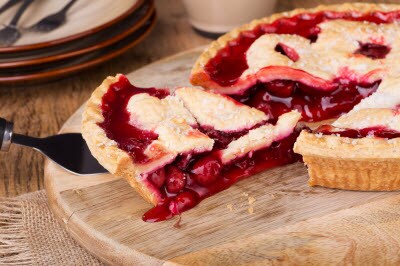 The pie that really put this bakery on the map was the Sour Cream Apple Walnut Pie. You'll find that flavor there today, including others like Mississippi Mud Pie, Three Berry Pie, and Banana Coconut Cream Pie.
They also have a rotating Pie of the Month, which you can check out on the Little Pie Company Facebook page.
It's Always Pie Time at Petee's Pie Company
Petee's Pie Company has just one goal in mind, and that's to make the best pie money can buy using real ingredients. Their pie crusts are made from organic flour and grass-fed butter from New York, and the fillings consist of seasonal local produce and natural fair-trade sweeteners.
They offer pies in various categories, such as...
Fruit pies: Wild Maine Blueberry
Nut pies: Brown Butter Honey Pecan
Custard pies: Coconut Custard
They even offer vegan and gluten-free options. Check out Petee's Pie Company on Facebook to discover all their tasty pie creations.
Which Will Be Your Pi Day Treat?
Make sure you're prepared this Pi Day, and order your pies soon for March 14. Reach out to any of these bakeries today, and they'll help you find the best pie to celebrate 3.14159.