The BMW 3 Series has been a popular vehicle in the United States since 1975 when it started the BMW line. The vehicle is still incredibly popular today in the Manhattan, Bronx, and Queens areas thanks to its beautifully timeless design and style. While the vehicle doesn't seem to have aged much over the years, the vehicle's incredible technology has changed quite a bit. 
Take a closer look at the 2017 BMW 3 Series technology below, then schedule a test drive at your local BMW dealership to get a closer look. 
Advanced Technology Starts with Convenience 
One of the best things about the BMW lineup is the incredible technology features the vehicles offer. The 2017 BMW 3 Series offers innovative technology designed to impress. These features include:
      
Head-Up Display: This innovative new technology makes it easy for you to get all the information you need without taking your eyes off the road. The iDrive technology puts your intuitive functions at the forefront and puts the technology where you expect it and need it most.
          
BMW TeleServices: This new technology makes your regular maintenance appointment one of the easiest things you'll do this year. The vehicle's system will automatically transmit your vehicle's maintenance status right to the service center at your local BMW dealership so all you need to do is make the appointment for a time that fits your busy schedule. 
Comfort Technology at the Forefront in the 2017 BMW 3 Series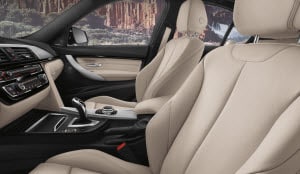 There are many great uses for technology, and your comfort should be at the top of your list. You spend enough time during the morning commute listening to your favorite radio station's weekly flower delivery prank, you should at least be comfortable while doing that. The vehicle's comfort technology features include:
      
10-Way Power Front Seat: This seat was made for your body. With 2-way power adjustable side bolsters, a 2-way adjustable headrest, thigh support, and 4-way lumbar support, you'll find the perfect settings for you. And don't get upset when your spouse takes a turn, as these seats have memory.
          
xDrive All-Wheel Drive System: It might not seem like a comfort feature, until you're driving in blizzard conditions to meetings through Queens, Bronx, and Manhattan. That's when the incredible system will mean the most to you. Keep control of your vehicle in all weather conditions, and enjoy the smooth ride every other day. 
Get the Inside Scoop at Your Local BMW Dealership in Manhattan 
BMW of Manhattan has a wide selection of vehicles for you to choose from, including the beautiful 2017 BMW 3 Series. Get a closer look at all the technology the vehicle offers during a test drive around town. You'll get to find the perfect seating settings, decide on all those special upgrade features like LED headlights and power-folding, heated side mirrors, and do the fun stuff like pick your favorite exterior color. 
Schedule a 2017 BMW 3 Series test drive at BMW of Manhattan now to get started.