Have you been thinking about purchasing a luxury small car? There are many great options on the market and buyers in the Manhattan, Bronx, and Queens areas have all of them at their fingertips. The 2017 BMW 3 Series and the 2017 Audi A4 are two such options. Both offer the brand recognition, high quality, and luxury you're looking for. So, how do you choose between the two? 
Start with this 2017 BMW 3 Series vs Audi A4 car comparison from the team at your local dealership. Then shop for your favorite in the online inventory of your local dealership. 
Value Comparison: BMW 3 Series vs Audi A4 
For many shopping for a luxury vehicle, price isn't the most important factor. Although one option may have a slight advantage in that category, there are others that dominate, such as ride quality and interior comfort. In the case of the 2017 BMW 3 Series vs Audi A4, these are the things we'll assess. 
Ride Quality Comparison 
The 2017 BMW 3 Series and the 2017 Audi A4 are incredibly similar in many ways. But there are a few key ways in which the two vehicles differ. One is in their ride quality. While both are powered by 2.0L intercooled turbo I-4 engines, one offers rear-wheel drive with an 8-speed transmission and one offers front-wheel drive with a 7-speed transmission. 
These differences seem slight, but in terms of ride quality, they're a big deal. The rear-wheel drive and 8-speed transmission in the 2017 BMW 3 Series means the vehicle offers a smooth, controlled, and sporty ride quality, while the other lacks a bit in all of those. 
Interior Dimension Comparison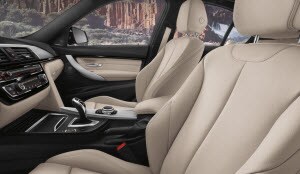 One of the most notable differences when looking at the 2017 BMW 3 Series vs Audi A4 is the slight variations between interior dimensions. While both vehicles offer plenty of seating for up to five passengers, you'll see that one option offers slightly more space in a couple of important areas. 
For example, the 2017 BMW 3 Series offers 40.3 inches of front headroom and 42 inches of front legroom. That compares to the 38.9 inches of front headroom and 41.3 inches of front legroom in the 2017 Audi A4. While it may not seem like a big difference, it can feel like it when you're the one in the front seat. 
Standard Features Comparison 
Like many vehicles in this class, both vehicles offer an extensive list of standard features, but there's one feature that's not standard in the 2017 Audi A4 that gave us a bit of pause. While the 2017 BMW 3 Series, and most others in this class, offer a standard onboard hands-free communication system and daytime running lights, the 2017 Audi A4 simply offers these as optional features. 
Another difference is that the BMW 3 Series comes standard with premium synthetic seats. Unlike the leather seats in the A4, the BMW might be a more animal-friendly vehicle for conscientious drivers.
Winner of BMW 3 Series vs Audi A4 Car Comparison 
In the 2017 BMW 3 Series vs Audi A4 car comparison, we can see a clear winner in terms of performance, interior, and technology features. The 2017 BMW 3 Series is available now to New York drivers at BMW of Manhattan. To get behind the wheel and find out if it's the right fit for you, start browsing our huge online inventory of new, used, and certified pre-owned vehicles now. Then, schedule a test drive!