The 2017 BMW 4 Series and the 2017 BMW 3 Series are both popular options for luxury car buyers near Manhattan, Queens, and Bronx. Offering powerful engines, a comfortable and luxurious interior, and advanced technology, the two vehicles on their own make a compelling argument for buyers' attentions. But which one is the best for your next purchase? Find out in this 2017 BMW 4 Series vs 3 Series car comparison from the team at BMW of Manhattan. 
Two Powerful Vehicles with Much in Common 
The 2017 BMW 4 Series and 3 Series are incredibly alike. In fact, many confuse them regularly. Although the two are the same at their core, there are some stunning differences between the two for buyers to consider. 
Difference in Performance Power
The 2017 BMW 3 Series comes standard with a 2.0L intercooled turbo premium I-4 engine that produces up to 180 horsepower and 200 lb-ft of torque. With different tuning, the 2017 BMW 4 Series engine produces up to 248 horsepower and 258 lb-ft of torque even though they consist of the same components. 
Similarities in Driving Performance 
Although there's a difference in the amount of power the two vehicles produce, the ride quality and efficiency you enjoy is the same. Both vehicles come standard with front strut suspension and multi-link rear suspension, and are paired with an 8-speed automatic transmission with the option for a 6-speed manual transmission. In terms of fuel economy, both vehicles get up to an EPA-estimated 23 MPG in the city and 35 MPG on the highway. 
Body Style and Size Are the Major Differences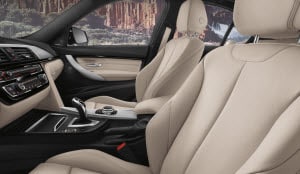 While the two vehicles are essentially the same under the hood, there are some big differences in terms of visual appearance on the exterior. The 2017 BMW 3 Series is a classic sedan body style that's much loved among professional types who may have a family currently or are looking ahead to have one soon. 
The 2017 BMW 4 Series is a coupe with a slightly lower height and a more cozy interior to give that sporty appeal. In fact, the vehicle has room for only four passengers, whereas the sedan model (3 Series) has enough seating for up to five. 
Choosing Your Next BMW Vehicle Purchase 
There are many reasons why you might want to choose one of these vehicles over the other, but both offer plenty to be excited about for Manhattan, Queens, and Bronx buyers. With luxury, performance, technology, and style on the bill for each, there are only size, performance, and style considerations to be made here. 
Ready to get a closer look at both vehicles in person? Stop into the showroom at BMW of Manhattan. We have the full BMW lineup and we'll happily show you the major differences between the two vehicles to help make a sound decision for your next purchase. Get started now in our online showroom, then schedule a test drive!