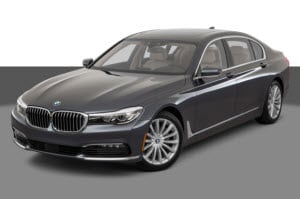 The 2017 BMW 7 Series is one of the most advanced vehicles on the market today. From its overall design and engineering to the intuitive features that make it so comfortable and convenient for you, the vehicle seems to have it all. 
Get a closer look at the 2017 BMW 7 Series technologyin this review from the team at your local BMW dealer near Bronx, Manhattan, and Queens, NY. When you're ready to get a closer look, schedule a test drive at BMW of Manhattan. 
Panoramic Sky Lounge LED Roof 
One of the first of its kind, the incredible roof of the 2017 BMW 7 Series offers a unique vantage point of the beautiful Manhattan sky. The feature was engineered and designed with more than 15,000 etchings in the glass that illuminate so you can relax with one of the six optional LED ambiance lighting settings while you're on the go. 
Standard Wi-Fi Hotspot 
When you're stuck in traffic and have work that needs to get done, let your driver take the wheel while you get a bit of extra work done. With the Rear Executive Lounge Seating package, you'll be able to relax in the comfort-based seating and use the standard Wi-Fi hotspot to prepare for that important meeting across town. It's also a great bonus for those buyers who plan to play chauffeur for their own little crew of next-generation media moguls. 
Remote Control Parking Technology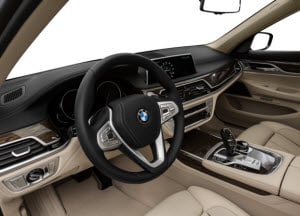 Turn your 2017 BMW 7 Series into a life-size remote control car with the Remote Control Parking technology. Using your display key, you can tell your vehicle to get in or out of a parking spot so you don't have to. It's the perfect addition to your vehicle for parking in Manhattan, Queens, or Bronx, NY, especially in those super tight parking spots. 
Command Tablet 
The 2017 BMW 7 Series also offers a removable 7-inch command tablet that you can use to control your vehicle's comfort and luxury settings. Not only can you change your climate settings from the tablet, but you can also set navigation, change your seating settings, and choose your favorite tunes on the 16-speaker Bowers & Wilkins Diamond Surround Sound audio system. 
iDrive 5.0 Infotainment System 
Now with gesture control, the 2017 BMW 7 Series infotainment system is easier than ever to use. The system's standard gesture control feature can detect up to five different options so you can change your audio, entertainment, and communication settings with the wave of your hand. So, no more finger prints, and no more trying to find the right button to change the song. 
Test Drive the 2017 BMW 7 Series 
The BMW 7 Series is packed with the latest BMW technology to make it one of the most technologically advanced vehicles on the road today. Whether you're looking to add a vehicle to your corporate fleet or you're looking for something that can easily make the change from daytime corporate mogul to nighttime parent of the year, the 2017 BMW 7 Series fits the bill. Get a closer look now at BMW of Manhattan in New York, NY.