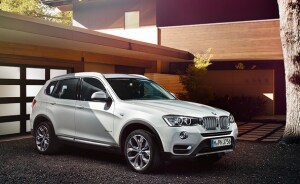 If you're looking for a luxury compact SUV near Manhattan, Bronx, and Queens, then check out the 2016 BMW X3. Often compared to the Mercedes-Benz GLC, the X3 has a ton to offer today's buyer. 
To help you see exactly how it matches up with the competition, we've put these two vehicles to the test. Keep reading to see how the 2016 BMW X3 vs. 2016 Mercedes-Benz GLC comparison turns out, then schedule a test drive at your local dealership.
X3 vs. GLC: Performance Options
The 2016 BMW X3 offers three powerful engines for you to choose from with a range of performance options, from the most efficient four-cylinder that produces 240 horsepower to the most powerful 6-cylinder that produces 300 horsepower. And while this range of options is incredible, it's really one of the standard features that pushes it over the top: The X3 comes standard with all-wheel drive. 
To compare, the 2016 Mercedes-Benz GLC class offers only two engine options. The base engine is a 241-horsepower four-cylinder rear-wheel drive engine and the upgraded option offers the same amount of power with an all-wheel drive drivetrain. The 2016 GLC doesn't come in a V6 at all, which means if you want the maximum power available, you'll have to look to the competition.
2016 Mercedes-Benz GLC vs. 2016 BMW X3: Feature Comparison
The other major point of difference between these two competing vehicles can be found on the interior. While the two have comparable base prices, the list of available features between them is drastically different. Because the GLC is only offered in two versions, getting all of the impeccable features you're looking for can be challenging. But the BMW X3 is available in four trim levels, so you'll have plenty to look forward to in your new vehicle.

In addition to the difference in power, the basic standard features list is different within the two vehicles. While the 2016 BMW X3 offers a plethora of standards, including fog lamps, HD Radio, a diesel fuel option, as well as several optional features, including the rear parking aid, the Mercedes-Benz GLC offers these only as upgrades, if at all.
Schedule a Test Drive
The 2016 BMW X3 is available at your local BMW dealer near Queens, Bronx, and Manhattan. BMW of Manhattan is your local new, used, and certified pre-owned BMW dealer located conveniently at 555 West 57th Street in New York, NY. Our friendly team of BMW sales professionals is available in our showroom during our regular hours Monday through Thursday from 9 am until 7 pm, Friday from 9 am until 6 pm, and Saturday from 10 am until 5 pm. 
We would be happy to help you get behind the wheel of the perfect vehicle for your wants, needs, and budget. To get an up close and personal view of the 2016 BMW X3 at BMW of Manhattan, give us a call at 877-855-4607 and schedule a test drive today.