When shopping around for a luxury SUV, you know that it's not just what's on the outside that counts, but what's on the inside as well. Meet the 2017 BMW X5, a midsize SUV that boasts a classy yet modern interior. Drivers in Manhattan, Queens, and the Bronx will ride around the city in style with the look and feel of this stylish SUV.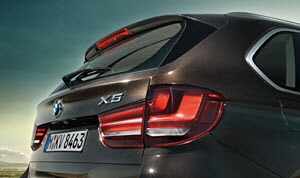 Our team at BMW of Manhattan has put together this interior review to highlight all of the impressive interior features that make this vehicle worth a second look. Check out all the details about the space, storage room, and technology that make the BMW X5 stand out among others in its class.
Space for Everyone & Everything
Seating
The space and comfort offered in an SUV in terms of seating is a major factor to consider, especially when carting the kids to school and sports games. The BMW X5 has options for this-yes, options. You can either go with the standard five-seater, or upgrade and add two additional seats as a third row, making enough room for car pools or the whole family!
In terms of comfort, you get to control this as well. With standard 14-way power adjustable driver and passenger heated seats, you can program your seat position and temperature so your BMW X5 remembers it for the next time you go for a ride.
Speaking of comfort, no passenger is left behind here. With 37 inches of leg room in the second row, taller riders won't ever feel cramped. So, for those group nights out in the city, you'll only have to take one car.
Cargo Space
When you're looking for a midsize SUV, cargo space is never to be overlooked. The BMW X5 offers an impressive amount of cargo space for its class. With the second-row seats up, you already have 35.8 cubic feet. That's enough for groceries, sports equipment, luggage-you name it!
However, that's not where the space ends in this vehicle. When you fold the second-row seats down, you're opening up to a massive 76.7 cubic feet of cargo space. We don't know about you, but it sounds like the options of storage are almost limitless at this point. Bring your bikes, move some furniture, cart a horse (just kidding…maybe).
For all of this stuff that you'll be storing, you're probably wondering how you'll have a hand to open the gate. The power liftgate will handle the opening and closing for you, and even offers a separate fold-down lower section to sit when tailgating your favorite sports game or concert.
The Tech-Savvy X5
Technology is all the rage these days-okay, it's basically everything these days. And vehicles are no different. The BMW X5 offers advanced technology features to keep you entertained while on the road.
The X5 comes standard with a 10.2-inch touchscreen infotainment system. The smartphone connectivity and available Apple CarPlay™ allows you to access your apps and music, so you can keep the kids distracted on longer car rides or just enjoy your favorite tunes on the way to the grocery store.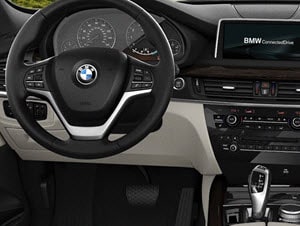 A navigation system is also standard in the X5, which is rare for its class. You can get where you're going safely without having to use a separate GPS or your smartphone. Just another way the X5 shows off its advanced capabilities.
Come Test Drive The 2017 BMW X5 Today!
We can go on for days about the awesome interior features in the BMW X5, but our best advice is to come check it out for yourself! If you are in Manhattan, the Bronx, or Queens, schedule a test drive online and one of our team members at BMW of Manhattan will contact you to confirm!