When you think of cheap hotels in Manhattan, your mind might immediately picture a run-down,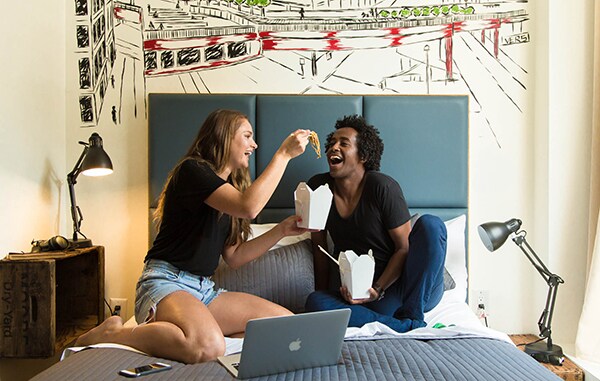 dimly-lit shack off the side of the road that still advertises, Color TV. Fortunately, a few savvy NYC entrepreneurs had a different approach, and have created some of the hippest places to post up on your next trip to the Big Apple, without emptying your wallet.
City Rooms NYC
If you're looking for a hotel room that's not only affordable, but cultural and cozy at the same time, check out City Rooms NYC. With locations in the SoHo and Chelsea neighborhoods, you'll be in the heart of the city when you stay in these uniquely affordable rooms.
City Rooms offers guests several different room and bed sizes, along with a private bathroom in each. The hotel offers 24-hour security and front desk services, so that you can check in whenever you arrive. Plus, you can get anywhere quickly with a subway stop right around the corner. 
The Bowery House
Rich in history, The Bowery House has a little bit of a different approach to hotel accommodations. Originally built as temporary housing for soldiers coming home from World War II in the 1940s, The Bowery House has been completely renovated, without losing its historical charm.
Choose from several different rooms, or cabins, that offer queen, full, and twin bed options, and shared bathrooms on each floor. And with its prime location, you'll be able to get to some of New York's greatest landmarks within a block, like the New Museum of Contemporary Art, Old St. Patrick's Cathedral, Bowery Ballroom, and much more!
The Pod Hotels 
The Pod Hotels are geared to keeping just the essentials in their hotel rooms, or pods, for their compact sizes. By eliminating the excess, they've also eliminated extra expenses- saving their guests on daily rates.
Most of the Pods have private bathrooms, or several shared bathrooms on each floor. Convenient in both service and pricing, The Pod Hotels will change the way you look at hotel stays.
On your next trip to Manhattan, be sure to check out these great hotel choices to save money while experiencing NYC in a whole new way.