The biggest football game of 2018 is coming up fast. So, it's time to start getting your plans together so your game day is as fun as possible. In this guide, we'll give you the rundown of all the information you need to know about the game, as well as the three best pizza places to get your game-time eats.
Important Game Details
The first thing you'll want to take care of is figuring out the important details of the big game. Below is everything you need to know about the game itself.
When is the Game? Sunday, February 4, 2018
Where is the Game? Minneapolis, Minnesota at the U.S. Bank Stadium
Who's Performing at Halftime? Justin Timberlake
How Much are Tickets? Anywhere from $4,000 and up
Now, Time to Think About Your Game-Day Menu
Once you have your dates and times situated, you'll want to start planning out where to get your game-day eats. Manhattan locals will be excited to hear that you have a few great places near you to order from.
Read ahead to learn more about what Cheesy Pizza, Joe's Pizza, and Patsy's Pizzeria have in store for your game day get-together.
Cheesy Pizza
Cheesy Pizza, which migrated from Brooklyn to Manhattan in the early 90s, is a family-owned and -operated pizza parlor. Founded on the ambitions to serve fresh, authentic Italian pies, Cheesy Pizza provides customers with just that. Grab a few slices or a large specialty pie. Choose between classic double cheese, or branch out with fajitas or a burrito pizza.
Joe's Pizza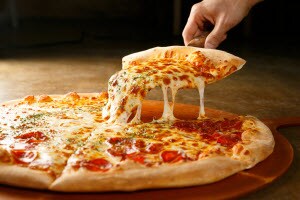 Pino Joe Pozzuoli has had a knack for pizza since coming to the U.S. from Naples more than sixty years ago. He hopped around pizza shops before establishing his own with aspirations of perfecting and serving New York Style pizza.
At Joe's Pizza, their recipe and style are simple, but good enough to stay unchanged for almost 40 years. You have your choice between a regular pie or a Sicilian square pie, as well as an array of toppings to choose from.
Patsy's Pizzeria
Patsy's Pizzeria, a staple in Manhattan's Lower East Side for many decades, specializes in the coal-over cooking style that comes with authentic Sicilian pizza. Decorate your old fashioned deep-dish pie with any number of toppings ranging from mushrooms to anchovies. You can even have your pies delivered right to you if the game has already started and you don't want to miss a minute of it.
Go Team!