New York City is known for its abundance of pizza spots, which can make finding your perfect pizza kind of hard. That's why we're always on the prowl for new restaurants serving up our favorite dish, and we found five must-have pizza spots near Manhattan that you need to try.
Artichoke Basille's Pizza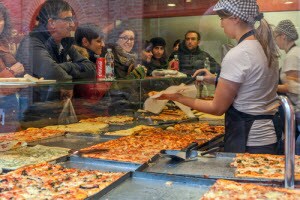 Since the restaurant was launched in 2008 by two pizza-loving cousins, Artichoke Basille's Pizza has been mentioned in The New York Post, The New York Times, and New York Magazine, which called their pizza "undeniably delicious." And when you stop in to try one of their gigantic slices of pizza, you'll not only leave full but also satisfied. 
The restaurant now has three locations: East Village, Chelsea, and Greenwich Village, all with varying hours depending. But what you'll find at all of them? Incredible pizza.
Joe's Pizza
Born and raised in Naples, Italy, Joe Pozzuoli came to America and established Joe's Pizza in 1975. And ever since, this Greenwich Village institution has been serving classic New York style pizza to New Yorkers and tourists alike. 
Over the years, the area around Joe's Pizza has changed, and they've even moved from their original location to one a few doors down. But one thing has remained the same: Joe's Pizza is still serving up a mean slice of classic New York pizza with all of the flavor and love of Italy.
John's of Bleecker Street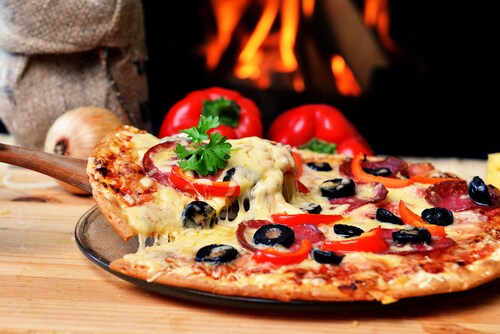 Since 1929, when it opened on Sullivan Street, John's has been serving world-famous traditional coal-fired pizza in a handmade oven built by original owner John Sasso. Over the years, both the location and the ownership of John's Pizzeria has changed, but the original recipes and method haven't. And for New Yorkers who have a sweet, sweet love affair with pizza, that's the thing about this local restaurant. 
Today, John's is still a family-owned and -operated business with the original wooden booths that show marks of love and loyalty from customers of another generation.
NY Pizza Suprema
Authenticity, passion, and love shine through every slice at NY Pizzeria Suprema, which was established in 1964 by Italian immigrant Salvatore Riggio. Believing that pizza should be simple, delicious, and perfect every time, Riggio and his family for years only served up a perfect plain slice of pizza. 
Today, they have a little more on their menu, but since 90% of their sales are still from that perfect slice of cheesy heaven, you're pretty much guaranteed to love it. With homemade mozzarella, three incredible homemade sauces, and perfectly cooked crust, this Italian family makes us swoon every time.
Patsy's Pizzeria
Since 1933, Patsy's Pizzeria has been slinging truly delicious pizzas and serving them with New York hospitality. First opened by immigrant newlyweds, the restaurant became a hub over the years for the likes of Frank Sinatra, Tony Bennett, and Dean Martin. In the 1970s, the restaurant was often visited by Francis Ford Coppola, who is said to have used the restaurant's atmosphere to create his character for his film The Godfather. 
Today Patsy's Pizzeria is an East Harlem tradition, and if you haven't grabbed a slice here yet, you're still not a local.