In the city that never sleeps, there are always a ton of fun activities going on. But fall in the Big Apple is one of the most fun times of the year, in our humblest of opinions. Super scary hayrides and the spookiest of haunted houses pop up all over the city and whether you're interested in a fright or a scream, you'll find it in Manhattan this fall.
In 2016, there are loads of scares to be had, but here are a few of our favorites.
New York Haunted Hayride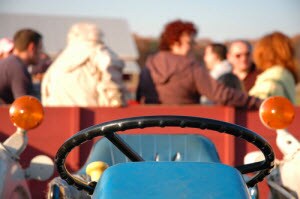 Fans of the show SHARK TANK will remember Mark Cuban's major investment in Ten Thirty One Productions specifically for this Halloween Attraction. The Haunted Hayride is one of the most popular haunted attractions near Manhattan, N.Y. Featuring three zones of horrifying quality, the hayride is not for the faint of heart. With vicious demons, psychotic clowns and killers on the loose, you'll be wishing the tractor-drawn hay wagon would go just a little bit faster through the enchanted Halloween world that has been created to terrify you. Snag your tickets on the official website to avoid long lines to this local favorite.
Gravesend Inn Haunted Hotel
Put on by the faculty and students of the Entertainment Technology Department at City Tech, The Gravesend Inn is a haunted hotel adventure that will make you fear technology. The high-tech hotel is haunted and features an interactive experience that is fun for the whole family. Held in Voorhees Theatre on Jay Street, the adventure is a high-quality set of exhibits that feels like a theme park. This "spooktacular" experience is more for fun than for fright and is a favorite for families in the Manhattan area. You can snag tickets for the Gravesend Inn Haunted Hotel on the City Tech web site or through the official event page.
Merchant's House Museum Candlelight Ghost Tour from Boo York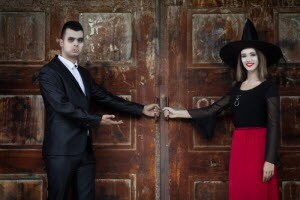 Named as one of the top haunted places in New York City, Merchant's House Museum is a museum by day and a haunted attraction by night. In 1835, the house was home to the Tredwell family. In 1936, the house became a museum, just 3 years after the home's last resident completed her life. But some say Gertrude Tredwell never left the house, and visitors have said they feel her and her seven siblings are still in the home. Reservations to visit the 19th century museum can be made on the museum website, but be prepared to meet at least one of the eight Tredwells who died in the house. 
Blood Manor
Designed to maximize the fear factor of every single guest, Blood Manor has a team of professionals committed to scaring you to [half to] death. At this haunted attraction, you'll make your way through a labyrinth of themed rooms, passageways and corridors in the over 5,000-foot venue as you are frightened by ghosts, ghouls, zombies and monsters of all kinds. This venue is only recommended for those 14 and over and is not appropriate for children. But be sure to snag your tickets online before you head over to avoid long lines and to get the time that best fits your night's spooky agenda.