Top Valentine's Day Restaurants NYC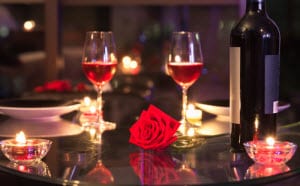 Finding a special place for a great Valentine's Day shouldn't be so difficult in the Big Apple, but finding somewhere that still has reservations can be. With this list of the top Valentine's Day restaurants near Manhattan, NY, we hope you'll find one that you and your sweetie will find perfect. 
Local, organic, thoughtfully curated, and passion are all in the mix behind the scenes at this local restaurant. Charlie Bird is something new and exciting in Manhattan and it's changing the way New Yorkers think about food. 
The restaurant's menu comes directly from the fresh ingredients at local farmers' markets, fish markets, and other local distributors. If you want to enjoy delicious wine, a specially curated Valentine's Day meal, and a beautiful atmosphere, make a reservation at Charlie Bird. 
Named a Top 5 Newcomer in 2008 by Zagat, Pera Mediterranean Brasserie is a delightful restaurant bringing a little flavor to your holiday. The restaurant is named after its namesake, an Istanbul neighborhood, that's been a home for people from all over the world since the 17th century. 
Today, the restaurant Pera Mediterranean Brasserie tries to create the same. When you check out this local restaurant, you'll get delicious specialty dishes carefully crafted by the team of executive chefs behind the scenes. 
If you want to enjoy a wonderful night out with your sweetheart on Valentine's Day, but you also want to enjoy a delicious Glatt kosher meal, then Talia's Steakhouse is the place for you. The restaurant offers an upscale, modern environment that's fashionable and chic, but also as "frum" as you are.
Talia's Steakhouse offers a gourmet menu, including dishes from both American and Middle-Eastern traditions. You'll find lamb, filet mignon, prime rib, and more on the menu. And thanks to the romantic environment with candles, fresh roses, and relaxing live music, it's the perfect place for a holiday meal.