Are you looking for a way to celebrate St. Patrick's Day in Manhattan, NY? There are a ton of events going on, but you'll likely find that the most authentic celebratory experience you'll have in the city is with a cold brew in a local Irish pub. That's why on our guide of where to spend St. Patrick's Day in Manhattan, we have four of the best Irish pubs in the city.
Check them out now and be sure to tell them we sent you!
Coogan's
Coogan's has been a hotspot of local Irish culture in the Washington Heights neighborhood of Manhattan since 1985. The neighborhood vibe and frequent celebrity guest list means that the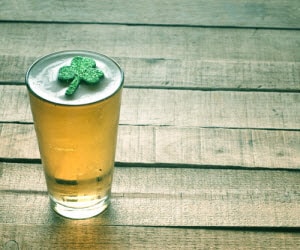 person sitting next to you could be a colleague or your favorite Broadway or TV actor.
If you want a bite of something delicious, and are looking for a restaurant that has the hearty and delicious Irish food you love, then stop into Coogan's. This local establishment is the perfect spot to celebrate St. Patrick's Day in the city or to just grab a quick drink after a long day at work.
The Irish Exit
If you're looking for an upbeat pub environment to hang out in on St. Patrick's Day in Manhattan, then The Irish Exit should be at the top of your list. The casual atmosphere is perfect for everyday relaxation, whether you're looking to catch a football game or grab a drink after work.
Open every day from noon until 4:00 AM, the pub/restaurant serves lunch, dinner, and drinks, and has new and interesting specials daily. If you're looking for something a little livelier, stop by on the weekends where you'll enjoy a live DJ and a more social scene.
Molly's Irish Pub and Restaurant Shebeen
The self-proclaimed "most authentic Irish bar in New York City," Molly's is a local favorite. Through the years, Molly's has been a pub, a grocery store, and a rooming house. While it's gone through many owners, many names, and many industries, one thing has always remained: the strong sense of community.
Molly's Irish Pub and Restaurant Shebeen is one of our favorite Irish pubs in the Manhattan area, and it's a great place to spend St. Patrick's Day in the city. Not only do they offer an extensive menu of Irish classic dishes, but they also have a great environment that'll fill your heart with nostalgia and love for Ireland.
Scallywags 
If you want a lively Irish pub experience any day of the week, then Scallywags is a great option. The full restaurant and bar is well known in Hell's Kitchen for having some delicious traditional Irish fare. Add to that the more modern American favorites, and you have a recipe for the perfect St. Patrick's Day celebration in Manhattan.
With events going on all year round, the restaurant is a great place to celebrate any occasion. With 12 huge flat screen TVs and a giant projector screen, you can take in a game any day at this local Irish pub. The venue also offers private bookings for special occasions.