2018 BMW M Series Review
Having been a favorite of BMW owners for decades, the 2018 BMW M Series has all the classic aspects you love, with a modern-day flair. Whether you're driving to Atlantic City for a night out, visiting family in Vineland, or hitting the beach in Egg Harbor Township, you won't feel bad about showing off this state-of-the-art cruiser.
To give you the total run-down on everything the 2018 M Series has to offer, our team at BMW of Manhattan has put together this review. We'll discuss how the M Series is different from the rest, including a brief on the individual models, and how you can get in your M Series today!
Have any questions for our team? Contact us here!
The M Series Difference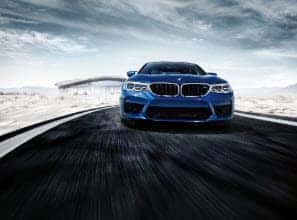 For over four decades, the BMW M Series has made drivers look at taking on the road in a whole new light, and the 2018 models live up to their name. The M Series makes sure it stands in a class all its own with innovative, advanced engine features.
Why the M Series Stands Out
The 2018 BMW M Series is all about a fun, athletic ride, and the engines are geared to provide just that. Combine lightweight materials, that are built to reduce weight, with twin-turbo technology, and you're looking at a lighter body while still producing more than 100 horsepower per liter.
Your Personal Racecar
You'll quickly notice that your M Series model isn't just a standard vehicle. Driving any of the M Series models is like cruising in a racecar made for the street. You can even measure your performance in the M Series with the BMW M Laptimer app with GoPro integration.
2018 M Series: The Models
Eight different models make up the 2018 BMW M Series, and each is made to give you what you've been looking for in your next luxury sedan or SUV. Let's take a look:
BMW M2 Coupe: Just the right pick for your next sports cruiser, the BMW M2 Coupe combines an athletic feel with a sporty exterior look, not to mention awesome engine power.
BMW M3: The BMW M3 sedan doesn't just look good-it's amazing to drive, too. This power house will take you from 0-60 in just 3.9 seconds, so don't mistake this one for just a regular old compact car.
BMW M4: Take the top off when you hop in the BMW M4 (the top of the car, of course). This ride comes as either a coupe or convertible, and can make laps in just 7:52 flat.
BMW M6: Also available as a convertible or in the Gran Coupe trim, the M6 produces 560 horsepower and 500 pound-feet of torque, really showing off the M Series' athleticism and agility.
BMW X5 M: Just because you're opting for an SUV doesn't mean you should give up power and style. You'll be waiting to show off the sporty, sophisticated X5 M at next weekend's soccer practice.
BMW X6 M: If you really want the best of, well, all worlds, go for the X6 M. This Sports Activity Coupe® is the perfect combination of all things M Series, without sacrificing speed, agility, or power.
Learn More About the 2018 BMW M Series
If you like what you're reading here about the 2018 BMW M Series, stop by BMW of Manhattan today and take your favorite model for a test drive! Proudly serving the areas of Manhattan, Queens, and the Bronx, we can't wait to show you what the 2018 M Series is all about.