2018 BMW X5 Review
Crossovers have become the go-to class of car for many people in the Manhattan, Queens and  Bronx areas. These versatile vehicles have plenty of room for extra cargo and passengers, and have no problem navigating tight city streets. With that popularity comes a very competitive market, however, which can make choosing the right one quite challenging.
The 2018 BMW X5 is one of the best crossovers on the market, especially if you're looking for luxury. This comfortable, high-performance ride is sure to impress, whether you need a personal vehicle or one for the whole family. Learn more about the 2018 BMW X5 and all the exciting features it can offer you in our helpful review. With any further questions, feel free to contact us.
Interior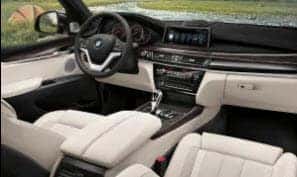 A luxury crossover is expected to deliver an abundance of space and a comfortable driving experience. The X5 delivers all that and more. With 39.8 inches of headroom and 40.4 inches of legroom, you'll have plenty of room when you're behind the wheel. Your passengers can experience that comfort too with 38.3 inches of headroom and 36.6 inches of legroom. It additionally shines in terms of cargo space, with 35.8 cubic feet of room with the rear seats still up. Fold them down for an impressive 76.7 cubic feet of cargo space.
Luxury is essential for the X5, so prepare for a relaxing experience every time you drive. When it comes to seats, you can choose between SensaTec cloth or top-quality leather. The front seats feature 14-way power adjustment and 4-way lumbar support. The X5 can even remember your favorite position as it will automatically adjust to the driver's prefered seat, steering wheel and outside mirror positioning.
Performance
Despite its luxurious and streamlined appearance, the X5 doesn't sacrifice power for luxury. The base model alone features 300 horsepower with its advanced 6-cylinder 3-liter turbo engine. That's just the beginning, however. The V8 twin turbo version offers an impressive 445 horsepower that few other crossovers can come close to.
The X5 also boasts excellent versatility. If you want the basic gasoline model, you've got it, but there are more options. The X5 features a diesel option that offers an EPA-estimated 26 mpg combined fuel economy with a 30 mpg highway. There's also a hybrid version that gets an EPA-estimated 56 mpg combined while still maintaining 308 horsepower.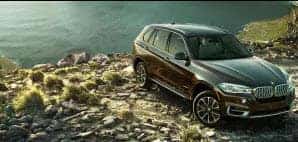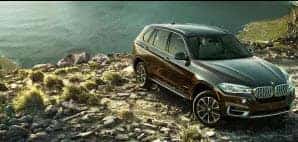 BMW has always been a leader in technology, and the X5 is a perfect example. It comes with the iDrive 6.0 infotainment system, one of the most advanced systems on the market today. Some of its features include enhanced voice recognition software and even gesture recognition, so navigating the interface has never been easier.
The infotainment center also has an advanced navigation system with a 10.2 inch high resolution touchscreen. You'll get access to 3-D maps and a 200 GB hard drive with 20 GB for audio files.
Check out the 2018 BMW X5 Safety Features
Test Drive the 2018 BMW X5
As one of the best luxury crossovers on the market, you don't want to miss out on your chance to try the X5 for yourself. BMW of Manhattan invites all Manhattan, Queens and Bronx drivers to experience the 2018 BMW X5 firsthand. Our friendly team stands ready to offer all the help and knowledge you need regarding the X5 or any other vehicle in our expansive inventory. Visit us or call (877) 855-4607 to schedule your test drive today!