2019 BMW 4 Series Review
Continuing BMW's reputation for world-class vehicles, the 2019 BMW 4 Series offers poise, performance, and refinement suited to a luxury model while also being versatile enough for any driving personality. Striking a balance between an exhilarating sports car and a practical family car, the 4 Series is the perfect blend of capability, comfort, and technology.
Drivers in Manhattan, Bronx, and Queens can find out what's new for the 2019 BMW 4 Series with our comprehensive review.
Performance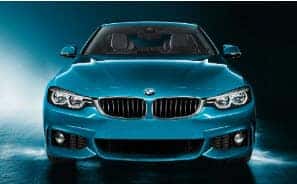 The BMW 4 Series comes in coupe or convertible models with two trim levels: the 430i and the 440i. The 430i comes equipped with a turbocharged 2.0-liter four-cylinder engine that produces 248 horsepower and 258 lb-ft of torque, while the 440i is equipped with a 3.0-liter turbocharged six-cylinder engine with 326 horsepower and 332 lb-ft of torque. Both engines mate to an eight-speed automatic transmission and come in rear-wheel drive, though a six-speed manual transmission is optional for the coupe. All-wheel-drive is available, as well.
With either engine, the power comes in early and stays strong, giving you all you need to maneuver in and out of traffic or pass on the highway. The well-weighted, accurate steering is ideal for all types of driving situations and helps the 4 Series glide through the sharp turns and curving back roads.
Interior
With low seats and a telescoping wheel, the BMW 4 Series models provide enough adjustability for driver comfort. While the interior is high-end in every respect, the overall design focuses on ergonomics and practicality. The driver can easily reach the shift knob, climate controls, and infotainment system, and passengers enjoy ample head- and legroom in both front and back seats.
There's plenty of trunk space as well, with a wide, conveniently shaped opening that easily accommodates large cargo. The split-folding rear seats open more space for long or irregular cargo as well, and there are multiple small storage bins throughout the cabin.
Technology
The 4 Series vehicles come with BMW's iDrive infotainment system, which features a large dashboard-mounted display with a control knob on the center console. This system allows full control over key functions, such as navigation and media, with minimal distraction. It also comes with a touchpad that offers a handwriting-recognition feature, allowing you to quickly and accurately input directions without taking your eyes off the road. Bluetooth® connectivity, voice recognition, and Apple CarPlay™ smartphone integration are just a few of the exciting features included with the iDrive system.
For safety, the BMW 4 Series offers several advanced safety technologies, such as Blind Spot Monitoring, Low-Speed Automatic Braking, Adaptive Cruise Control, Forward Collision Warning, and Lane Departure Warning. Combined, these systems monitor the area around your vehicle and alert you to any potential collisions, keeping you safe and protected on the road.
Take a Test Drive at BMW of Manhattan
If you're looking for a powerful, comfortable luxury vehicle with some of the best features and technology on the market, 4 Series hits all the marks on your wish list.
Drivers in Manhattan, Bronx, and Queens can experience the new 2019 BMW 4 Series by visiting BMW of Manhattan. Call or stop by our dealership today to take a test drive!