2019 BMW M Series Review
If you want to stand out when driving around the Manhattan, Bronx, and Queens areas, you need a car that stands out. For premium luxury and performance you won't find anywhere else, there's no better option than a BMW. These stunning vehicles have so much to offer, especially if you opt for one of their 2019 M Series models.
The M Series has a well-earned reputation for performance, built on decades of engineering excellence. While its history is impressive enough already, that hasn't stopped BMW from innovating further, making their latest additions better than ever before. Learn more about the 2019 BMW M Series, and discover if one might be right for you.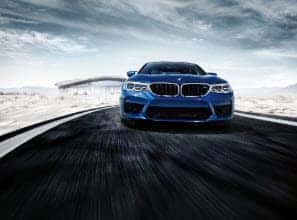 M2
If you're looking for a speedy coupe to take through New York, the M2 might be perfect for you. You can go from 0-60 MPH in just four seconds, thanks to the 3.0-liter M TwinPower turbo inline-6 engine. With 405 horsepower at your disposal, it's no wonder M2 drivers get a kick out of every experience behind the wheel. The sleek shadow-line trim and available 19-inch wheels only complement the intense experience the M2 can offer.
M3
The M3 adds two more doors to its M2 counterpart, making this one of the nicest sedans on the market. Power is again available in spades with this vehicle, but arguably its most impressive feature is the weight balance. The M3 features a carbon fiber roof and engine brace that are plenty tough, but also lightweight, allowing for exceptional agility and handling. In terms of power, you'll have 425 horses under the hood and a top speed of 155 MPH.
M4
When you're behind the wheel of the M4, you'll feel a unique combination of lightness and power. Returning to coupe form, the M4 offers incredible agility with all the power you've come to know and love. There's even a convertible option if you want to enjoy the fresh air while cruising the streets. The 444-horsepower engine is impressive, of course, but BMW also outdid themselves with the interior, as it features performance seats with 10-way power adjustment and lumbar support.
M5
As if the M series wasn't impressive enough already, the M5 takes it all to the next level, setting records on the road and on the track. You can reach 60 MPH from a complete stop in just 3.1 seconds, thanks to its incredible 617 horsepower and 553 lb-ft of torque. Unique to this model is the M xDrive Intelligent AWD system which can be adjusted between 4WD, 4WD sport, and 2WD on the fly for ultimate control.
M6
The sleek M6 was built to be aerodynamic, and that much is clear from the moment you look at it. Under the hood rests a powerful V8 that features Launch Control. That means from the moment you let off the brakes, all 560 horsepower and 500 lb-ft of torque will be at your disposal.
X5 and X6 M
The coveted M series performance has drifted into their lineup of sport utility vehicles, enhancing both the X5 and the X6. With the X5 M, you can enjoy 567 horsepower with 553 lb-ft of torque. Active Roll Stabilization and the Intelligent AWD features allow this vehicle to perform virtually anywhere. The more sporty X6 M offers the same kind of power, but features a sleeker look in a class all its own.
Test Drive the 2019 BMW M Series
Every vehicle in the 2019 BMW M Series has something special to offer, but only one can be the right option for your needs. Find out which at BMW of Manhattan, your trusted BMW dealer in the Manhattan, Bronx, and Queens areas. Schedule your test drive today!