2019 BMW X3 Towing Capacity

The BMW X3 has plenty of versatility. It comes with lively performance for a fun drive around Manhattan, the Bronx, and Queens. It also has a premium interior design for a comfortable and luxurious ride.
Beyond that, it can even tow your trailer or other equipment you plan on hitching up to your new SUV. Just how much weight can the 2019 BMW handle? At BMW of Manhattan, we made this review to detail for you the BMW X3 towing capacity and other ways it'll help you when you need to transport larger items.
BMW X3 Towing Capacity and Engine Specs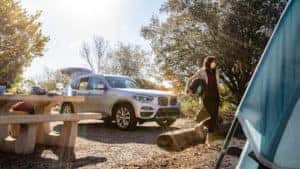 With the 2019 BMW X3, you'll be able to pull along a range of equipment, supplies, or gear with its towing capacity of 4,400 pounds. It'll also be able to carry plenty of weight inside with a payload capacity of 937 pounds.
Its ability to tow all that weight starts with the strength that the various engine options provide. The standard engine in the X3 is the 2.0L TwinPower Turbo 4-cylinder engine. This produces 248 horsepower and 258 lb-ft of torque.
There's even more strength to be had with the available 3.0L TwinPower Turbo 6-cylinder engine. With this available engine, the BMW X3 generates 355 horsepower and 365 lb-ft of torque.
Safety Features to Help While Towing
The 2019 BMW X3 is also built to give you confident, controlled driving when towing. First, you'll be able to easily line your trailer up to the vehicle's hitch with the Rear-View Camera. This is especially convenient when you don't have someone with you to help guide you while trying to attach your trailer.
When driving, the 2019 X3 can keep everything straight on your intended path with the Dynamic Stability Control. Great grip is given by the Dynamic Traction Control, which will limit any slippage.
If you're stopped on an up-hill and about to start moving again, the Start-Off Assistant will make sure you won't start to roll back as you move your foot off the brake. Then when you're heading down a steep hill, the available Descent Control technology can keep everything steady and at a safe, controlled speed.
Other Ways to Carry Cargo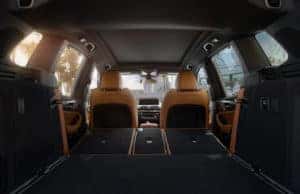 The back of the BMW X3 also provides you with a spacious area to load anything from luggage to groceries. Behind both rows of seating, there's 28.7 cubic feet of cargo volume.
The rear seats can also be folded down to give you the ability to use even more space for your cargo. When folding these seats down, the 2019 X3 will give a cargo capacity of 62.7 cubic feet. This will let you bring all your gear along with you for whatever activity you have planned for the day!
Come See this Highly Capable and Elegant SUV!
The 2019 BMW X3 offers plenty of capabilities, like its ability to tow and haul cargo, along with an extremely sophisticated interior. Come see all the other features the X3 comes with that will enhance your drive around Manhattan, the Bronx, and Queens, and take one out for a test drive here at BMW of Manhattan!