Auto Preventative Repair in Manhattan, NY
Your BMW vehicle is a complex piece of machinery. From the inner workings under the hood to the advanced technology streaming your music through the speakers, BMW vehicles offer a rare combination of advanced engineering and design.
That being said, the importance of BMW vehicle preventative repair can't be overstated because it's that kind of maintenance that prevents you from having a major breakdown near Queens, Bronx, and Manhattan.
Signs of Low Tire Pressure
How Often Should You Rotate Your Tires?
How to Jump A Car?
How Long Do Car Batteries Last?
Importance of Preventative Repair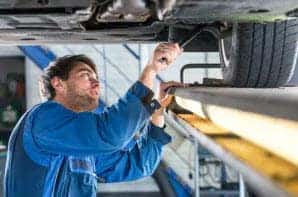 Caring for your BMW vehicle can be compared to creating a restaurant-quality meal. Prior to enjoying your meal, you'll thoughtfully create a shopping list, carefully choose the highest quality ingredients, and then you'll craft your meal and enjoy it.
During the shopping list phase of BMW maintenance, you're doing your research (like reading this article) to determine what ingredients you'll need to enjoy a healthy vehicle. Then you'll choose the highest quality ingredients (high-quality parts and service technicians) before putting it all together for your ultimate enjoyment. But what preventative repair services should you be scheduling?
Manhattan BMW Preventative Repair Services
BMW vehicles require basic preventative maintenance to remain in good working condition. These services are similar to what you might expect on any other vehicle and are pretty standard for automotive preventative maintenance.
The most important preventative maintenance services you can do for your BMW vehicle include the following:
Oil Change Service
While many vehicle owners assume they can go just a little bit longer between oil change appointments, this can have a long-term negative affect on your vehicle's quality. The BMW oil change service is designed to ensure that your engine has proper lubrication and to prevent overheating. Getting this service done on time can improve your vehicle's performance and fuel efficiency and maintain its longevity.
Brake Repair Service
While the word "repair" may be a tad bit confusing, a brake repair service is simply the name of any brake-related services. This includes brake pad replacement, rotor replacement, and brake inspection. These are important for extending the life of your brakes and ensuring that your vehicle doesn't suffer from brake failure.
Tire Inspection and Repair
Keeping your vehicle's tires in good shape is the key to ensuring that they live out their full life. It also improves vehicle performance, contributes to high fuel economy, and ensures that you get the best handling and ride quality the vehicle has to offer.
Schedule a Preventative Maintenance Appointment
Doing preventative maintenance on your BMW vehicle is imperative to maintaining its integrity. So be proactive now with a little help from a BMW dealer near Manhattan, Bronx, and Queens. BMW of Manhattan offers a full suite of repair and maintenance services and a convenient location at 555 West 57th Street in New York, NY.
The service department at BMW of Manhattan offers appointments Monday through Thursday from 7:30 am until 7 pm, Friday from 7:30 am until 6 pm, and Saturday from 8 am until 5 pm.
To schedule your preventative maintenance appointment, give us a call at 877-760-0883 or schedule a service appointment today!