2018 BMW 3 Series Maintenance Schedule
Regular, routine maintenance is an essential part of any vehicle ownership. Not only is it required to maintain your vehicle warranty, but it's the way you maintain the car's value, and it's the way you keep the car running just like new for many years. Your new BMW 3 Series sedan is designed to provide you with the height of luxury and performance, setting the standard for luxury sedans across the sector.
Sometimes it can be confusing to keep in mind which maintenance you need at any given time. While your dealership can help you with that, it's also good to have a handy, quick reference so that you're always aware of what to expect when you make that service appointment. Check out our complete 2018 BMW 3 Series maintenance schedule, so you can always keep on top of your regular service intervals, and keep your car running strong.
BMW 3 Series Maintenance Schedule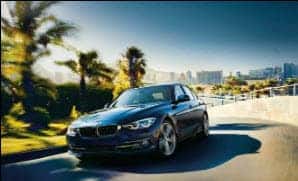 The current maintenance schedule for the 2018 BMW 3 Series is divided up into intervals of 10,000 miles, 20,000 miles, 30,000 miles, and 60,000 miles. The service you'll need at each interval comprises mostly basic work, and shouldn't cost a great deal, assuming that nothing major is wrong with the vehicle at the time. Let's look at each.
10,000-Mile Intervals
The most basic service you'll have on your BMW 3 occurs every 10,000 miles. At this interval, you'll have your oil and oil filter changed, as well as your coolant levels checked and refreshed. In addition, your service technician will go over all the important mechanical aspects of your car, including checking your tire pressure and ensuring there are no leaks in your hoses, to be sure that everything is running smoothly.
20,000-Mile Intervals
At every 20,000 miles, in addition to the standard 10,000-mile service and visual check, your car will also receive an additional service: Your fuel filters will be checked and, if necessary, replaced.
30,000-Mile interval
The 30,000-mile interval will only occur once. At this interval, your brake fluid will be checked, the levels replenished, and it'll be changed if necessary. After this, it'll occur every 60,000 miles. This can be one of the more confusing service intervals, as it'll require visits at 90,000 miles, 150,000 miles, and so on, which puts it off from the regular 60,000-mile interval. However, it'll fall on your regular 10,000-mile intervals, so there shouldn't be a concern about missing an appointment!
60,000-Mile Interval
Every 60,000 miles, your air filter will be swapped out, and your spark plugs will be rated for replacement. Again, you'll receive a thorough top-to-bottom checkup of all your vehicle's mechanics and systems to ensure that everything works as it should.
Schedule Your Service at BMW of Manhattan
If you're in the areas of the Bronx, Queens, or anywhere in Manhattan, your BMW 3 Series can get expert service at BMW of Manhattan. Stick with your regular maintenance schedule and you'll be enjoying the comfort, luxury, and performance of your 3 Series for many years to come. Give our service center a call to make your next maintenance appointment today!