2019 BMW 4 Series Lease Manhattan NY

There are plenty of ways to get through the streets of Manhattan, but nothing offers an experience quite like a BMW. These vehicles were built on a legacy of quality performance and luxurious comforts. When you're behind the wheel of the stunning new 2019 BMW 4 Series, you can expect nothing less.
Thanks to leasing, driving a 4 Series doesn't have to be just a dream anymore. With the reduced costs and easy management, this new sedan is more readily available than ever before. You just need to find a reliable dealership with BMW 4 Series lease deals that work for you. That's where BMW of Manhattan can help!
Welcome to Manhattan NY
If New York City is the capital of the world, Manhattan is its beating center. The entire city arose from the remnants of New Amsterdam after the British seized it from the Dutch. That was nearly four centuries ago at this point, so a lot has happened since then. Manhattan has since become a cultural and economic hub for the entire world with a population well over 1.5 million people.
You'll find plenty of ways to keep yourself busy in Manhattan. Stop by Times Square to see the scenic location that's become known worldwide, or visit one of the numerous museums around town to soak up some art, history, and virtually anything else. No matter what your plans are, there's nothing quite like a BMW 4 Series to take you around town.
Leasing a BMW 4 Series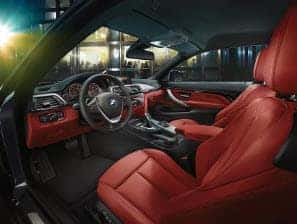 When BMW was designing the 4 Series, they had performance in mind before all else. There's plenty of raw power with even more to spare, but you'll also find the car to be incredibly agile and stylish. With a near-perfect weight distribution and an output of 320 horsepower, you'll find strength you can control more effectively than ever before.
Leasing is among the best ways to put this power at your disposal. When you lease, you're automatically in for some serious savings seeing as you don't have to pay for the entire value of the car. When you lease, you're only responsible for the car's value during your lease term. That means you don't have to worry about market fluctuations when it's time to trade it in.
Our Lease Deals
Leasing is easy when you work with us. Your dealership experience is the most important factor for us, which is why we've streamlined the entire car-buying process. That translates over to leasing, of course, so you can expect a simple and fun process. Our sales team will take you through all the 4 Series options so you can find the car that works best for your needs.
Once you've found the right model, our financial team will walk you through our lease and finance offers. You'll be able to choose the terms and mileage that work best for you with the helpful input from our highly trained, expert financers. Don't worry about routine maintenance either-we can cover that for you in most contracts so that you won't need to pay out of pocket for oil changes, tire rotations, and other routine services.
Visit Us for 2019 BMW 4 Series Lease Deals in Manhattan NY
When you're looking for the best 2019 BMW 4 Series lease deals in Manhattan, NY, BMW of Manhattan is your best bet. With an experienced financial team and expansive selection of 4 Series models, you can be behind the wheel of this performance-driven car in no time. Contact us at BMW of Manhattan today to learn more!