Taking a Bite Out of History: Flatiron Hall

Have you ever wanted to enjoy a delicious meal while surrounded by history? If so, Flatiron Hall is exactly what you're looking for. This restaurant not only has a vast selection of beer, cocktails, and menu items, it's also decorated with furnishings and artifacts from the late 1800s.
Ready to grab a bite while exploring the Victorian Era? Keep reading to learn how!
Adult Beverages, Please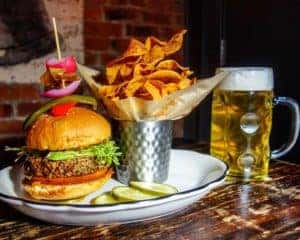 Flatiron Hall brews their own beers and has 12 special beers always on tap. Those in the mood for a crisp cider can opt for the Virtue Michigan Apple Cider that features nodes of oak with a sweet, smooth finish. Those who want a smooth, light beer will enjoy their Golden Lager.
Plus, Flatiron Hall occasionally has guest beers on tap as well as gluten free options.
In the mood for something a little stronger? Why not try one of their house cocktails that were created by a local bartender's great uncle? When stopping by, you must try The Flatiron—a blend of whiskey, mint, and orange juice.
Do you prefer feeling like you're on a tropical island? We recommend the Tiki Thunder. This cocktail blends pineapple, lime, cherry, rum, and more into one delicious beverage. No matter what you're in the mood for, you're sure to find the right drink for you at Flatiron Hall.
Pairing Drink & Food
Those who want a warm plate to share with their friends are sure to love the Beer Cellar Nachos—a true crowd favorite.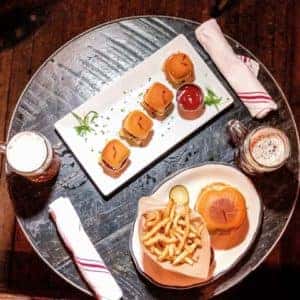 Looking to grab some dinner with your drink? Flatiron Hall has a selection of salads, sandwiches, and entrees that are sure to satisfy your craving. Those looking for a hearty meal should try their Bacon & Chicken Mac N' Cheese or Burger Royale.
What makes Flatiron Hall even better is that they have several organic-keto-vegan-vegetarian-gluten free meals, too! We think you'll find that the Zucchini Noodle Pasta is up to your standards.
Flatiron Hall Vintage Décor
Stepping into Flatiron Hall you'll be transported to the late 1800s. This Victorian-style bar includes several artifacts and furnishings to help set the antiquated mood. You'll find light fixtures that were made from 1860-1930, chairs made between 1860-1920, and even a series of elevator doors that were made in the late 1800s.
You'll also find several steins throughout the restaurant. Some are antique ceramics from US and Europe. Another is a mural in the Beer Cellar. This mural, which was painted by H.S Crocker and Co. in 1889, features the five steps a baseball player takes to evolve into a stein of beer.
Plan Your Next Event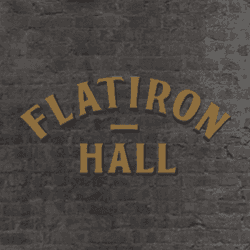 In addition to serving drinks and meals seven days a week, Flatiron Hall also hosts several events throughout the year. To get a full list of upcoming events, check out their Facebook page.
Love the restaurant so much you want to rent it for your own private event? No problem! Flatiron Hall has ample room and lots of experience with weddings, birthday parties, corporate events, and more.
Visit Flatiron Hall Today!
Are you ready to travel back to the Victorian Era with your friends and family while enjoying a delicious meal with some great drinks? If so, stop by Flatiron Hall today to get your food n' history fixings.