How Long Do Car Batteries Last?
Car batteries are one of those vehicle parts we'd all like to think last forever. If you buy a new vehicle every couple of years, you may never have experienced the joy of jumping a dead battery or replacing one. But never fear, for the team at BMW of Manhattan is here to demystify the battery life for car lovers like you. Keep reading to learn more about how long car batteries last.
Car Battery Life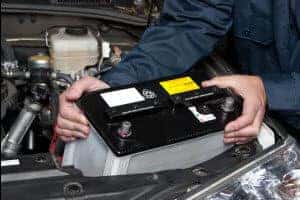 How long your vehicle's car battery lasts will depend on several factors. On average, a car battery can last anywhere from 2 to 6 years. That's quite a huge stretch of time, so we'll lay out what can affect that time frame so you can get a better idea of your car battery's life:
Vehicle maintenance and service habits
Quality of the car battery
Driving and idling habits of the owner
Environmental conditions
What exactly does all that mean? It means that if you drive with regular habits, like a regular morning commute of 45 minutes on a highway with minimal congestion without any severe temperatures, you can expect your car battery to last about 6 years. If you make many frequent stops, sitting with the vehicle idling for long periods of time while using onboard technology features, then your car battery will last a much shorter period.
What Are the Signs of a Dying Car Battery?
The signs of a dying car battery are pretty substantial, and they're not ones you're likely to miss. For example, one of the biggest signs that it's time to replace your car battery is that your vehicle simply won't start. Another sign is that the lights will be dimmer than they regularly are. Are there more signs? You bet! Here are a few to look out for:
Malfunction with electrical systems like the car radio or air conditioner
Vehicle doesn't start when you try the ignition, then starts on a second try
Vehicle systems stop working or function incorrectly, such as an auto-dimming mirror
These are small things, but if you pay attention to your vehicle regularly, they are signs you'll notice over time. What should you do if you notice any of these? Replace your battery with a little help from the team at your local BMW service center.
Schedule a Service Appointment at BMW of Manhattan
If you think it's about time to replace your car battery, contact the service center at your local BMW service center near Manhattan, Bronx, and Queens. BMW of Manhattan has a full team of highly trained and specialized service professionals who'll happily work with you to get your service done right the first time. The car battery service is a quick one and shouldn't be a huge stressor. Give us a call now at 877-760-0883 to speak to a service expert or schedule a service appointment online now.