How Often Should You Rotate Your Tires?
As the single point of contact with the road ahead, the tires are arguably one of the most important parts on your vehicle. The amount of traction, your ability to stop as quickly as you need to, and your ability to maneuver quickly out of potentially dangerous situations are all determined by the overall health of your tires.
The tire rotation service is a preventative maintenance care service that helps to ensure that your vehicles stay healthy for as long as possible. To help you get to know this service and learn about its benefits, we've answered the most common question we get about tires: How often should I rotate my tires?
Keep reading to learn the answer and more from the service team at BMW of Manhattan.
What's a Tire Rotation?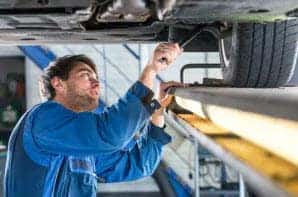 A tire rotation is usually offered during your oil change service. Our service professionals inspect all four tires and check for wear and tear. Then the two front tires are switched with the two rear tires.
The change in position from one side of the vehicle to the other ensures that the tires get even wear on the inside and outside. It also gives the service team a chance to check for abrasions, lesions, cracks, and low tread level-all of which indicate a necessary tire replacement.
How Often Should I Rotate My Tires?
Tires should generally be rotated about every 5,000 to 6,000 miles or when you get your vehicle's oil changed. This is a preventative maintenance service and is necessary for ensuring that your tires wear evenly.
If you're not sure what the exact service interval is for your vehicle, you can find information from the manufacturer in your owner's manual.
Where to Get Tire Service Near Manhattan
Choosing a service center near Manhattan, Queens, and Bronx is tricky because there are so many options. BMW vehicles require a major investment on the front end, and that investment can be maintained if you keep up with its maintenance with a little help from a reputable service department.
At BMW of Manhattan, our team is trained to take care of even the most difficult and complex vehicle services. And while a tire rotation may seem like a routine service, if something is missed and your tires do need to be replaced, you could find yourself in a dangerous situation. Failure to correctly complete a tire rotation could cause problems with vehicle balance, suspension system, or even the braking system. Why take a chance?
Schedule a Tire Rotation at BMW of Manhattan
BMW of Manhattan is your local BMW service center near Manhattan, Bronx, and Queens. We offer a full suite of preventative maintenance services for our local clients who are interested in preventing an unnecessary (and expensive) repair.
To learn more about the automotive repair services we offer, visit our service page. Then schedule a tire rotation at BMW of Manhattan using our online service scheduling tool.