Oil Change Near Me
Keeping your BMW in tip-top shape is easy with the team at your local BMW dealer in Manhattan, New York, NY. BMW of Manhattan offers a full suite of regular maintenance services to keep your vehicle running smoothly for years to come. Our most popular and most important service offering is the BMW oil change. Learn more about our expert oil change services or schedule an oil change appointment today!
Oil Change Service in Manhattan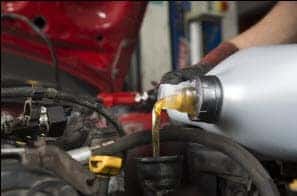 When it comes to maintaining your vehicle, the best thing you can do is stay on top of the preventative maintenance that will protect its most important parts, including oil changes. BMW vehicles are advanced and, compared to some less luxurious options, the service requirements are quite low. However, an oil change service is still necessary to prevent overheating of the engine and damage due to corrosion.
How Often Should I Change My Oil
Synthetic vs. Conventional Oil
BMW Oil Change Service Interval
The purpose of an oil change is to drain the old oil from the system and replace it with new oil. For most BMW vehicle owners, this service will need to be done every six months or 6,000 miles, whichever comes first. This is the perfect interval for drivers who are regular commuters, drive on normal roads, and aren't heavy footed with the acceleration.
If you're a severe driver (driving on dirty roads, taking lots of short trips, or doing a lot of idling), you may want to bump that up to a shortened service interval to ensure that your vehicle continues to run smoothly.
If you're not sure what is the best oil change interval for your BMW vehicle, check your owner's manual.
Do I Need an Oil Change?
If your vehicle isn't running at its best, then you may need an oil change sooner than your regular BMW oil change interval may suggest. Here are a few signs that your BMW vehicle needs an oil change now:
The engine is running louder than normal.
There's an oil smell or a burning smell.
The engine oil light is illuminated.
If you notice any of these oil change signs, it's important to get your vehicle serviced at your local BMW service center near Manhattan as soon as possible, since these are last-ditch signs from your vehicle that it needs service.
Schedule a BMW Service Appointment in Manhattan
Whether you're a Manhattan local or a regular Manhattan commuter, taking your vehicle to your local BMW dealer in the city just makes sense. The team at BMW of Manhattan is highly trained and experienced in taking care of BMW vehicles, and we'll be happy to guide you through all of your regular service and preventative maintenance in our state-of-the-art service center.
We're centrally located at 555 West 57th Street. Our service team is available Monday through Thursday from 7:30 am until 7 pm, Friday from 7:30 am until 6 pm, and Saturday from 8 am until 5 pm. Schedule a BMW oil change service online now or give us a call!