Dinner and a Cocktail at Saxon & Parole
When you're looking for a new restaurant to try, it needs to have the perfect combination of great food, a unique atmosphere, and friendly service. Saxon & Parole has all that, and a fully stocked bar, which only makes things better.
With offerings from both the land and sea, they have something for everyone's taste buds.
The Men Behind the Menu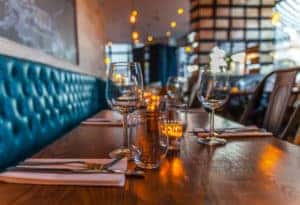 Brad Farmerie is the executive chef at Saxon & Parole. His passion for food was ignited after college when he witnessed the culinary revolution in the UK. He set out to immerse himself in global culture and cuisine. He earned a Grande Diplome from Le Cordon Bleu and has trained in the kitchens of one, two, and three Michelin star restaurants. He's the recipient of two James Beard awards and a Michelin Star.
The bar director, Maxime Belfand grew up in a small town just outside Paris. His career in hospitality began in the kitchen. He soon realized that being behind the bar, where he could interact with guests was his true calling. While working his way up the ladder from bar back to bar manager, he trained under some of the most renowned bartenders in London, Mexico, and New York City. Today, he manages the seasonally-changing cocktail list at Saxon & Parole.
A Meal at Saxon & Parole
Whether you're feeding the whole crew or eating for one, there's something on the menu to sate your appetite. If you're in the mood for a burger, try The Saxon Burger. It's dry-aged beef with Pennsylvania Havarti, maple bacon, and a fried egg. They also have several steak dishes like the 10-ounce Rocky Mountains Bavette Steak.
Are you feeding a large group? Consider the Tower of Aquatic Delights. It's east and west coast oysters, tea-smoked mussels, jumbo poached Mayan prawns, and so much more. Plus, it's all served with their sriracha cocktail sauce!
If you're an oyster lover, head over for Oyster Hour Monday through Friday from 5pm to 6pm. You can try raw and fried oysters as well as a selection of specialty drinks.
Speaking of Drinks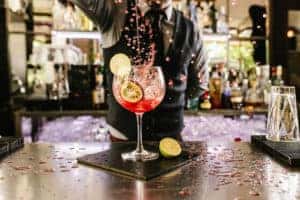 At Saxon & Parole, the bar menu is vast. If you're in the mood for a craft beer, signature cocktail, or a wine that celebrates America's vinous traditions, they have what you need. They also host a number of wine events like tastings and pairings! Diners can even indulge in a cocktail made with their house brand of whiskey.
Saxon & Parole is even ushering in a new era of cocktail making. You can sign up to become a Cocktail Cabinet Member. You'll get a specially made cocktail of the month. It comes in a personalized bottle, which has approximately eight servings, so feel free to share or enjoy it for yourself.
Indulge Tonight!
Whether you're in the mood for a relaxing dinner for two, or a fun-filled feast with friends, Saxon & Parole is the place to go. You can also follow them on Facebook to see what kind of special events they're stirring up!
Make a reservation today!