Just because you don't see it, doesn't mean we can't get it. Speak with a BMW Client Advisor about vehicle sourcing and ordering.
---
Routine maintenance is essential to keeping your used BMW by your side for years to come. Since we at BMW of Manhattan understand the importance of routine maintenance, we offer a variety of used BMW service specials that drivers in New York, Connecticut, and New Jersey can take advantage of.
Keep reading to learn more!
---
What Are Our Used BMW Service Specials?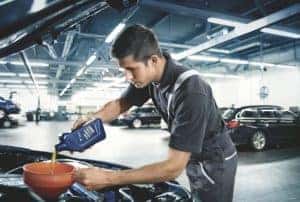 We're proud to offer a variety of used BMW service specials. These service specials are offered for vehicles with model years between 2005 and 2015, for those used BMW vehicles purchased from any independent, non-BMW used car dealership.
We have specials with oil services and reduced labor rates. Let's take a closer look!
We're working on new specials! Check back soon!
---
Benefits of Regular Oil Service
Engine oil helps keep your engine running in tip-top shape. That's because engine oil is responsible for filtering out toxins and keeping the engine from overheating.
Over time, the toxins that are filtered out of your car's engine create sludge. This sludge prevents the oil from lubricating the engine. Without this lubrication, the moving parts will grind against each other and create unnecessary friction.
It's recommended you change your car's engine oil every 5,000 to 7,000 miles.
---
Benefits of Routine Maintenance
Just like you need to visit the doctor each year, your car needs to visit the mechanic every year. This annual checkup is when a factory-trained BMW technician will fully inspect your vehicle to ensure it's running in tip-top shape.
During this inspection, the technician will do a thorough inspection of your vehicle. They'll make note of the health of your vehicle's features and components and use that as a baseline for future visits.
If a part isn't working at 100 percent capacity, if there's an open reclass or service bulletin, or there's an update to your system, the technician can make those adjustments then. This way, your vehicle is always running in tip-top shape.
---
Why Are Recalls Important?
A vehicle recall occurs when the manufacturer determines a part of a vehicle is a safety risk or doesn't meet the standard safety requirements. Possible recalls could include:
Recalls are designed to fix any potentially harmful defects. If a part of your vehicle is under recall, it's essential you have the recall resolved as soon as possible. Recalls are a fast, free, and effective way to resolve these issues.
Staying on top of any recalls is the best way to ensure you and your passengers are traveling as safely as possible.
Claim Your Used BMW Service Special Today
We're proud to offer a variety of used BMW service specials. Drivers in New York, Connecticut, and New Jersey can claim these oil and reduced labor rate specials by contacting us at BMW of Manhattan today!
Don't wait any longer to keep your used BMW happy and healthy!
Search
Find Your Vehicle
Search By Keyword
Search By Filters
Saved
Saved Vehicles
SAVED VEHICLES
You don't have any saved vehicles!
Look for this link on your favorites:
Once you've saved some vehicles, you can view them here at any time.
Share
Share This
Choose How To Share: