If you're having trouble choosing between two models in the BMW lineup for 2017, we're here to help. The BMW 3 Series and the BMW 5 Series are both great options if you're looking for a luxury sedan. But there are some significant differences between the two. For buyers near Queens, Manhattan, and Bronx, we've put together this 2017 BMW 3 Series vs 5 Series comparison. 
Take a closer look at how these two vehicles compare, then start shopping for your next BMW in the online showroom at BMW of Manhattan. 
Big Difference in Size and Class of 3 Series vs 5 Series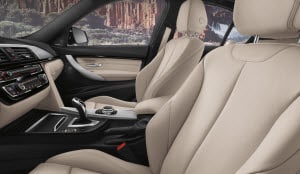 One of the major differences between the 2017 BMW 5 Series and the 3 Series is the size of the vehicles. In the automotive world, that translates to a different classification among the competition. For reference, the 3 Series is in the Luxury Small Cars class while the 5 Series is in the Luxury Midsize Cars class. 
But what does that classification mean for you? For starters, the two vehicles are in different price ranges and have a different target buyer. The BMW 3 Series is a common choice for buyers who want a starter luxury vehicle and its price point reflects that. The vehicle is a top choice for young professionals, parents with one or two children, and those looking to get excellent fuel economy while keeping a low price point. 
The BMW 5 Series is often the choice for those on their second or third luxury vehicle who are looking for a little more breathing room and to spend a little more for luxury features. While both vehicles have seating for up to five passengers, the 5 Series offers more powerful engine options and a higher price point to reflect the journey of the buyer. 
3 Series vs 5 Series: Standard Features 
The other major differences between these two vehicles is in the options you can choose from. While the 2017 BMW 5 Series (coming Spring 2017) hasn't been fully released, you can expect that it'll be as powerful, if not more powerful, than the 2016 model, which has engine options to produce up to 575 horsepower. 
The power of the 2017 BMW 3 Series tops out around 320 horsepower. Both vehicles are available in rear-wheel drive and all-wheel drive, which makes them both excellent options for winter driving in Queens, Bronx, and Manhattan. 
Schedule a BMW Test Drive Today 
When you're ready to take a closer look at the differences between the 2017 BMW 3 Series and the 2017 BMW 5 Series, then it's time to come into the dealership near Bronx, Manhattan, and Queens. BMW of Manhattan has a huge inventory of new, used, and Certified Pre-Owned BMW vehicles on the sales lot so you can see all your options at one place at the same time. 
Schedule a test drive of your favorite BMW model at BMW of Manhattan today.