Welcome to your BMW Service Center near me! We're your local BMW Service Center in Manhattan, NY, and we're happy to have you here with us today. 
At your BMW Service Center near me, we're committed to providing you with an excellent experience whether you're working hard to keep your vehicle running smoothly or looking to accessorize your vehicle to better meet the needs of your lifestyle.
Whatever your automotive needs may be, we'll be here with you every step of the way.
BMW Service You Can Trust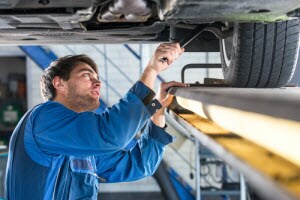 At BMW of Manhattan, our team of BMW service professionals is highly qualified to meet the needs of your BMW vehicle. Highly trained and highly skilled in BMW vehicle repair and service, our BMW service technicians have taken the time to get to know the ins and outs of your vehicle. We take great care and great pride in the services we offer, so you can expect us to give you excellent service every time you stop in. 
As a BMW Service Center near me and dealership, we offer BMW Value Service, which gives you competitive pricing on a variety of BMW automotive services when you shop with BMW of Manhattan. This work will be done by our expert BMW service technicians, and you won't have to hassle for the price, since pricing for most of our regular services is available right on our website.
We're Here When You Need Us
When it comes to fitting your regular BMW maintenance and repair into your busy schedule, it can be challenging to find the time. But the team at your BMW Service Center near me has made an extra effort to make your next service appointment as convenient as possible. 
This starts with offering convenient service department hours. Our team is here Monday through Thursday from 7:30 am until 7 pm, Friday from 7:30 am until 6 pm, and Saturday from 8 am until 5 pm. 
But we make it even easier by scheduling your service appointment online so you don't have to speak to a service professional unless you want to. And when your appointment is over and you're well on your way to freedom from this endeavor, you can pay your service bill online before you come and pick it up. That means you can get in and out in just a few minutes.
Schedule Appointment at BMW Service Center Near Me
Are you ready to take the next step in taking care of your BMW vehicle? Schedule a service appointment for your vehicle at the BMW Service Center in New York, NY. We're centrally located at 555 West 57th Street, but you'll find that our service department entrance is actually on 58th Street, between 10th and 11th Avenue. 
Schedule a service appointment online now or give us a call at 877-760-0883 to speak to a member of our service team about your vehicle's maintenance and repair needs.