BMW Roadside Assistance
There are many benefits to being a BMW vehicle owner. One of the best is the safety features that come along with your purchase. As a car-owner, there's nothing more worrisome than the idea of being stuck on the side of the road without a way to contact help.
As implausible as that sounds, if you're on a long road trip without phone reception or without a charged phone, you could get a flat tire in a place where you can't find immediate help. That's where BMW Roadside Assistance and BMW Assist™ can be of some major assistance.
BMW Roadside Assistance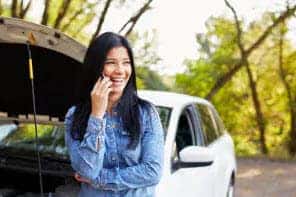 Whether you've got a flat tire, you've run out of fuel, or you need a tow because of a dead battery, BMW Roadside Assistance has got you covered. This BMW service provides 24-hour protection, 365 days a year. This FREE* service comes with your BMW at no extra cost to you. There are no mileage restrictions, and you'll be covered no matter where you go in the US, Canada, and even Puerto Rico.
This service is available for BMW owners for the first four years from the original in-service date. BMW Roadside Assistance is even available if someone else is driving your BMW vehicle. You can find more information about BMW Roadside Assistance in the "Service and Warranty Booklet" that came with your vehicle.
Certified pre-owned BMW owners are also covered for up to six years from the original in-service date. You'll find coverage information in the "Consumer Information Statement" that came with your vehicle.
BMW Assist™
As part of the ConnectedDrive suite of features, BMW Assist™ uses innovative technology to connect you to a focused response specialist in an emergency. The system works by combining a GPS satellite receiver in your vehicle with an integrated wireless phone so that emergency personnel can find you in a pinch.
BMW Assist™ features include automatic collision notification, which automatically transmits your location information to a response center. There's also an Emergency Request button you can press that can get you in contact with a live representative. If your vehicle is ever stolen, the team can help police locate the vehicle. If you ever lock your keys in the car, the BMW response center can unlock the door with just a little information from you.
You can learn more about BMW Assist™ in your vehicle's owner's manual under "BMW ConnectedDrive" or from a professional at your local BMW dealership.
Learn More About BMW Roadside Assistance Features
Whether you're already a BMW vehicle owner or you're in the market for a new, used, or certified pre-owned BMW vehicle, the team at BMW of Manhattan can answer your questions. We'll walk you through how to use BMW Assist™ and how to access BMW Roadside Assistance when you need them. We'll answer any questions you might have about the two services.
To learn more, contact the team at BMW of Manhattan now. Give us a call or stop by the showroom near Manhattan, the Bronx, and Queens to get some answers.
*Subject to certain limitations and exclusions. See your Owner's Manual for details.