BMW X5 Dimensions
At BMW of Manhattan, we get that when you're buying an SUV, you've got a few requirements, and we're betting we can guess a big one: space. You want to fit the kids, luggage, maybe even a bike or two. Fortunately, the BMW X5's dimensions are geared to fit the whole family (and then some!).
For our drivers in Manhattan, the Bronx, and Queens, we've crunched all of the numbers and have come up with the dimensions. The 2017 BMW X5 is 192 inches long, 76 inches wide, and 69 inches high. Still, how comfortable is your back seat and will there be enough cargo space for all your things while riding around New York City? Learn more about the BMW X5 dimensions below.
Seating Space For All Parties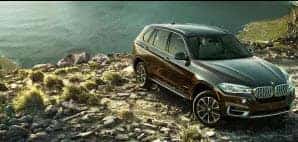 The BMW X5 comfortably seats five passengers, with the option to add two more seats as a third row.
The driver and passenger seats allow for ample leg room, 40.4 inches to be exact, with 14-way power adjustable settings, so you can choose your level of comfortability while driving.
While the driver and front seat passenger are enjoying their spacious rides, we can't forget about the backseat.
The second row is equipped for passengers of all sizes as well.
With about 37 inches of leg room, you'll be able to carpool for the big games on Saturdays, as well as group nights out with friends.
Why wouldn't you want to show off how your brand-new SUV has room for everyone?
Check out the BMW X5 interior review to learn more about this SAV (sports activity vehicle).
Cart Everyone's Luggage in the Cargo Area
For long trips, you're probably going to want to bring a lot of stuff: suitcases, sports gear, even Fido. And for lots of stuff, you need lots of cargo space.
The BMW X5 gives you 35.8 ft³ of space while the second row is still up. So, you can fit your groceries or travel bags without having to maneuver any rows or seating arrangements.
When you do fold the second row down, though, you'll get an impressive 76.7 ft³ of cargo space-now we're talking.
You can help a neighbor move, buy and cart a new piece of furniture, or maybe another dog or two.
Truly, the possibilities are endless.
Powered For More Space
So, now you've got all this space with all of your gear, and the next step is to…open the trunk. How many times have we left the grocery store with that one extra bag that makes our hands full?
Fortunately, the BMW X5 has a power liftgate that comes standard in all models. Unlike other SUVs, the liftgate opens from the top, and actually drops down at the bottom-similar to a pickup truck tailgate.
Not sure which BMW X5 trim level is right for you? Learn more here as we compare the BMW X5 trim levels.
Check Out The BMW X5 Dimensions
Now that you've got the low-down on the numbers that make up the BMW X5, why not come check it out for yourself? Drivers in Manhattan, the Bronx, and Queens will appreciate the spacious interior of the X5 while driving around in tight NYC traffic.
Schedule a test drive at BMW of Manhattan, and you can feel the roominess of the X5 in person.