BMW X5 Towing Capacity
Most people, when they hear the name BMW, think luxury more than utility. Still, the X5 sport utility vehicle by the manufacturer is something of a powerhouse among the class. It might be a luxury sport utility vehicle, but BMW likes their cars to be trustworthy, reliable and practical which actually puts them ahead of many of their luxury competitors. One thing that many drivers demand from a mid-sized SUV is the ability to haul a big load.
Whether you're in the Manhattan, Bronx or Queens area, or anywhere else in the nation, the BMW X5 does offer solid towing capacity that will keep you pleased. Learn more about the BMW X5 towing capacity, the equipment packages you'll need to get it, and where to explore it for yourself. Contact us or stop by today if you are ready for a test drive.
Towing Capacity Overview
Unlike the truck-based frames of its competition, the X5, while a mid-sized SUV, is also a crossover. It's essentially a sedan but it has greater ground clearance, weight and profile. It's designed to have the beefy performance of an SUV with the handling of a sportier vehicle. It's got outstanding traction and great acceleration.
Everyday commuters may take some issue with the more truck-like performance in the sedan shell, but that's actually a plus when it comes to towing capacity. These features are designed specifically to provide for great performance in this vehicle, and when properly equipped, it's rated to tow up to 6,000 lbs.
Towing Equipment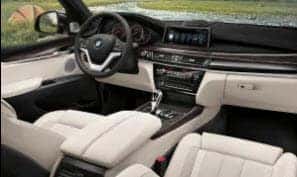 Of course, to get the maximum towing capacity out of the vehicle, you'll want to make sure that you have the right equipment. The base engine is a 3.0-liter inline 6 which can deliver 300 horsepower and the same in torque via an 8-speed automatic transmission. At the xDrive35d you get a turbocharged 6-cylinder which gives you 255hp, but gives you 413 lb-ft of torque, upping your capacity slightly.
The top of the line engine at the xDrive50i level is the one you'll want to achieve your top level towing capacity. This particular engine is a 4.4-liter V8 which will deliver 445 horsepower and 480 lb-ft of torque. This delivers superior power and performance and it will easily get you the 6,000 pounds of towing capacity you're after in this awesome crossover.
Tons of Options
The new BMW X5, however, offers plenty of options for drivers no matter what your desires are. It features outstanding comfort, great handling, confident traction and plenty of power and storage space for just about everyone. It offers solid fuel efficiency for a mid-sized SUV while also delivering tons of power for authoritative towing. It's a great vehicle overall.
BMW of Manhattan
Whether it's for towing capacity, luxury trappings or the best tech, the X5 series is a great mid-sized crossover SUV. If you're looking to check out the power and capacity of this vehicle for yourself, and you're in the Bronx, Queens or Manhattan area, BMW of Manhattan can help. Give us a call or stop by our dealership to get into a new BMW and take a test drive, or for answers to any questions you might have today.