OEM vs Aftermarket Parts Guide
Regardless of how well you care for your new or used BMW, the normal wear and tear it experiences will eventually require new parts. When it comes time to shop, however, most owners aren't sure what their best automotive parts options are. You have a choice between OEM or aftermarket parts, but that can be a difficult decision if you don't know what the difference is.
When it comes to choosing parts for your BMW, you want to choose the part that'll perform best, be better for your vehicle, and last the longest. To make this decision easier for our customers in Manhattan, Bronx, and Queens, here's a breakdown of OEM vs. aftermarket parts.
What are OEM Parts?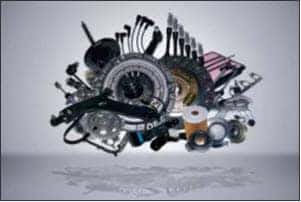 Most manufacturers stress the importance of using parts that were specifically designed for your vehicle, especially if it's a luxury brand like BMW. Manufacturer-recommended parts come in two types: OEM and genuine.
OEM stands for Original Equipment Manufacturer, so an OEM part is made by the same company that built the original part for the vehicle. A genuine part is similar to an OEM part, except that it bears the logo of the manufacturer. As far as the function in your vehicle, there's no major difference.
What are Aftermarket Parts?
Aftermarket parts generally include generic parts, non-OEM parts, and competitive replacement parts. All aftermarket parts are made by a manufacturer-other than the original manufacturer that made your vehicle-and are designed to be used in several different vehicles, rather than just that specific make or model.
Aftermarket parts are easy to come by. Most auto shops have a selection of aftermarket parts for you to choose from, and there are virtually limitless options for aftermarket parts online.
OEM vs Aftermarket Parts
Cost is the major difference between OEM and aftermarket parts. OEM parts are typically more expensive than aftermarket parts, and with good reason.
You may think you're making a smart decision, but aftermarket parts are designed to fit many vehicles. Not only does this exclude them from warranty coverage, in most cases, but it also means that they may be made from low-quality materials that could be detrimental to your vehicle's health.
Another difference is reliability. When you choose OEM parts, you know that they're designed to be used in your specific vehicle. Because aftermarket parts are low-quality and generic, they're unlikely to have the proper engineering for a BMW's needs. Aftermarket parts also may void your warranty if they create a problem that requires repairs.
Safety is a serious concern, as well. While many aftermarket parts are authorized by the Certified Automobile Parts Association, they're not required to be. This means that generic parts don't have the same quality standard as OEM parts. Luxury vehicles like BMWs are finely-tuned, so using aftermarket parts could compromise your vehicle's safety if it's not an ideal fit.
Find OEM Parts at BMW of Manhattan
At BMW of Manhattan, we offer a wide selection of OEM parts for our BMW owners in Manhattan, Bronx, and Queens. We also provide an online parts order form, and same-day or next-day delivery for your convenience.
If you'd like to order an OEM part, or you have questions about the parts for your BMW vehicle, call or visit our parts center today!