BMW Tire Repair Manhattan, NY
Looking for tire repair near the Manhattan, Queens, and Bronx areas? You've come to the right place! At BMW of Manhattan, we're happy to provide the highest quality care for our customers when it comes to keeping their wheels spinning.
However, it can sometimes be difficult to tell whether your tires are definitely in need of some TLC. That's where we can help! There are a few ways you can tell if your tires are needing repair, or to be replaced altogether.
Signs Your Tires Need Repair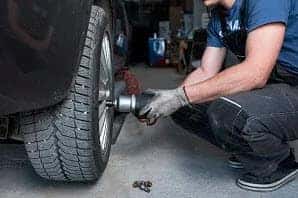 If you think your tires might be in need of repair, check out these signs first:
If you need an oil change. When you're due for an oil change (usually every 3,000-5,000 miles), you're usually due for a tire rotation, as well. This keeps the tread on the tires even, so that you don't end up with a surprise flat.
If the treads are worn down. Worn down tire treads are a sign that a replacement might be near. To test this yourself, take a penny and insert it into the treads; if you can see the top of Lincoln's head, you should have an auto technician check it out.
If it's an older tire. Age definitely counts when considering if you need a tire replacement. Did you know that after five years, tires undergo a thorough inspection, and usually need to be replaced after 10? Check your tires' age by looking for the last two digits after a string of numbers on the tire's sidewall.
Learn More About Tire Repair near Manhattan
It's important to check on your tires regularly, especially if you're noticing your vehicle is driving differently. Keeping your tires intact is essential to ensuring the safety of you and your fellow riders while on the road.
If you're in the areas of Manhattan, Queens, and the Bronx, our team at BMW of Manhattan will be happy to assist you with all your tire repair troubles. You can schedule an appointment online, or contact us with any questions or concerns.