What's New with BMW iDrive 7.0

If you're considering hitting the streets of Manhattan, Bronx, and Queens in a new BMW, you might be asking: What's new with iDrive 7.0?
To ensure that you're prepared to sit at the helm of a BMW model that's armed with iDrive 7.0, our team here at BMW of Manhattan has created this guide. Below, we'll discuss the connectivity, flexibility, and integration that comes with this system. Keep reading to learn more!
The Original iDrive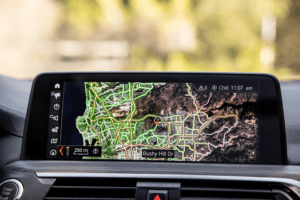 Before we go into what's new, let's discuss why BMW changed the name of their technology.
When iDrive first began, it was the controller that was used to command the infotainment system of the BMW. It came with live tiles and lots of opportunity to customize what the driver was seeing. This new system, however, offers even more customization options.
The original iDrive controller is still virtually the same. It features a dial, which you can rotate to navigate through the interface and then click to make your selection. Plus, it has a variety of shortcut buttons, which you can use to gain quick access to the most important features. However, there is far more you can do with the improved iDrive 7.0.
Driver Display
First and foremost, iDrive 7.0 brings a new driver display to the table, which is 12.3 inches and fully digital. Plus, you'll be able to customize it even more than before.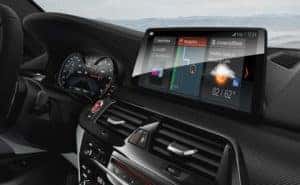 The driver display features a speedometer and rev counter–essential data for every driver. However, the center of the display now features a map from the navigation system. It shows your position and gives you directions as you drive. This is especially convenient for keeping track of where you're going while staying focused on the road.
The left side of the display shows driving specifics, like speed and any driving aids that are in use. You can also add a second speed display, and you'll get information about cruise control on the left side, as well. On the right side, you'll see information pertaining to entertainment. You'll be able to scroll through radio stations and any album you're listening to.
Infotainment Display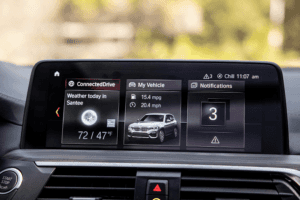 The 12.3-inch infotainment display is improved with iDrive 7.0, too! It can be configured with a variety of color-coded tiles, so you can personalize your view further.
The display system is divided into media, communication, navigation, car control, and apps, but to make things more suitable to your needs, you can remove things you don't want. If you just want to see media or navigation, simply remove the other tiles from your display. If you want, you can also see it all. The screen can divide up the major areas of information, so you can see everything with just a glance.
You also have options when it comes to how you control the system. There's the touchscreen display, the original iDrive controller, and the steering wheel-mounted controls. Plus, with the BMW Intelligent Personal Assistant, you'll even be able to control the iDrive 7.0 system with the sound of your voice.
Test Out iDrive 7.0 Today!
Now that you have a better idea of what iDrive 7.0 will bring to your journeys through Manhattan, Bronx, and Queens, come see for yourself what this system is capable of. You can check it out in one of the new BMW models here at BMW of Manhattan. We're here to help if you'd like to learn more.